Home
>
Scottish Comedy
>
Still Game
Still Game
BBC TV programme Still Game with the characters details of the series, episode guide, cast list, theme tune details and the stage show
Still Game is the hilarious BBC comedy starring the youthful Ford Kiernan and Greg Hemphill as the old rascals Jack Jarvis and Victor McDade who live in Craiglang, near Glasgow. The programme focuses on their antics around their tower block, Osprey Heights, their local pub, The Clansman (run by publican Boabby played by actor Gavin Mitchell), and the surrounding area.
The local Neds keep the old boys on their toes.
Still Game Stage Show
The still game stage show takes place from 24 September to 9 October 2014 at the Glasgow Hydro. It was originally going to be performed over 4 days but demand saw this rise to 16.
It started as small comedy sketches on Chewin The Fat before gaining popularity and getting its own series. The first episode was broadcast on BBC Scotland on the 1 September 2002. The fourth series saw the comedy show broadcast throughout the UK on BBC2.
Follow us on:
Instagram
,
Twitter
and
Facebook
.
Contact Me
.
My new novel: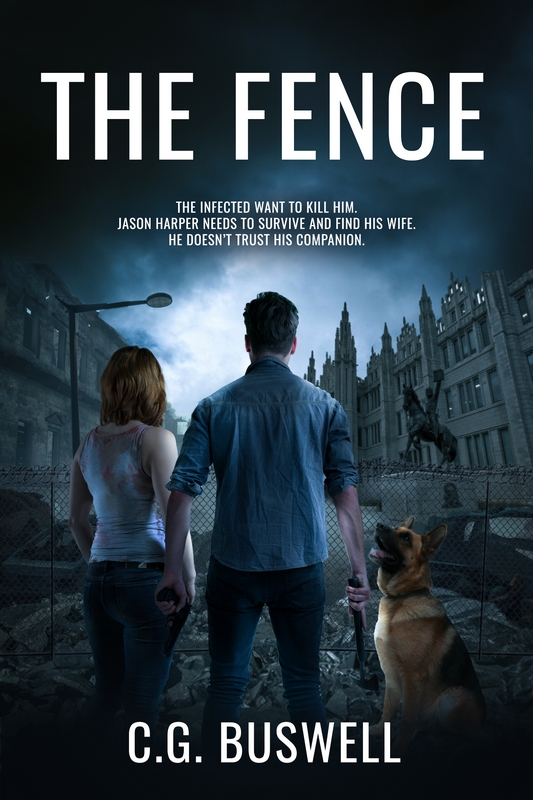 The Aberdeen skies are under attack from an enemy jet. It is spilling a strange yellow smoke. Minutes later, people start killing each other.
Former Royal Air Force Regiment Gunner Jason Harper witnesses this and then his wife, Pippa, telephones him, shouting that she needs him. They then get cut off. He sets straight out, unprepared for the nightmare that unfolds during his journey. Everyone seems to want to kill him.
Along the way, he pairs up with fellow survivor Imogen. But she enjoys killing the living dead far too much. Will she kill Jason in her blood thirst? Or will she hinder his journey through this zombie filled dystopian landscape to find his pregnant wife?
The Fence is the first in this series of post-apocalyptic military survival thrillers from the torturous mind of local horror and science fiction novel writer C.G. Buswell.
Download Now.
Buy the Paperback.
Other delightfully funny characters include Isa Drennen the local gossip and busybody (played by actress Jane McCarry) who loves nothing more than a verbal spar with Winston Ingram the local grump and meanie (played by BAFTA winner actor Paul Riley who won 2 BAFTAS in 2006 - one for this role and the other for the Scottish comedy pilot Dear Green Place). Look out for Navid Harrid (actor Sanjeev Kohli) the local shopkeeper who throws some hilarious insults to his wife. A running theme is that we have never seen his wife's face and the writers have promised to never reveal her identity until the last episode.
Other characters are played by the team behind
Chewin The Fat
and a host of great Scottish guest actors and stars such as Sylvester McCoy, Billy Boyd, Lorraine Kelly and Robbie Coltrane.
The series has some poignant moments as it touches on the problems elderly people face today and each 30 minute episode will have you rolling in your seats.
Buy Still Game DVDs and Books
at discounted prices with free delivery available.
Still Game Episode Guide
The Still Game Episode Guide below contains plot and character details.
Still Game Christmas Special
The Still Game Christmas special was broadcast on Sunday December 23 2007 at 10:15pm on BBC1. It was called Plum Number and saw the pensioners of Craiglang celebrate Xmas despite problems with carol singers, a fruit machine and lollipop men.
Jack and Victor have joined the Craiglang Community Choir but do not want the regulars at The Clansman to know. Though when Isa sees them singing she can't wait to get back to Navid's and the pub to tell everyone. Meanwhile Edith, the woman with the deep voice and huge black teeth, is trying to join the choir. The choirmaster has to politely tell her no despite her best efforts.
Later when they enter The Clansman they are expecting to be met by quips by Boabbie and Tam and the other pub customers. They do not say a word but when they turn round to drink their whisky the regulars are standing behind them singing a rude song.
Winston sees his friend Charlie the lollipop man outside his school and he tells him he is off to the hospital to have his haemorrhoids operated on because they are like the hanging baskets of Babylon. Though he knows he will miss out on his Christmas boxes from grateful pupils and parents. He gets Christmas hampers and bottles of malt whisky because it is a posh school. He agrees to stand in for him and split the profits. Later he is seen with a huge shopping trolley loading up his gifts until another lollipop man arrives and boots him to another school where the parents are junkies or in jail for murder. He doesn't get any tips: just attacked and stripped of his lollipop uniform and even his false leg. Later the teacher explains that they are good kids really but have bad parents. He shows the spirit of Christmas later when he sees them safely to school and gives each child a mars bar.
The Craiglang community centre is closing because there is asbestos so Jack and Victor convince Boabby the barman to let them use the back room. It hasn't been used in years and they have to clean it out when they find a decomposed dog!
Back at the bar of The Clansman in Craig Lang a new puggy machine has been delivered which pays out a £1000 jackpot. Tam and Shug design a plan to beat the fruit machine of its jackpot prize. Jack and Victor hear about their plans for the puggy machine. Shug designs some plans and uses his experience of being a secret card counter at a casino though warns the others of the dangers of getting caught as he shows them his amputated fingers. They use clicker counters to count out the number of £1 coins that go into the puggy fruit machine and estimate the time of the £1000 payout. They take turns to guard the machine at this time but their plans are scuppered when they turn on the air conditioning and lots of smoke and dust fills The Clansmen. The pub is emptied so the old codgers cannot get the £1000. Instead Edith is left alone in the bar and puts £1 into the machine and wins the grand.
The choir all go sick with sore throats because of the dust and the choirmaster thinks he has to cancel but Winston has an idea... the next scene cuts to the finals of the choir of the year where the school kids sing Mr Lollipop and he dances about in his lollipopman uniform. Then Edith starts to sing a solo and incredibly wins the cup which then takes pride of place behind the bar of The Clansman.
The choirmaster offers Edith a regular place in the choir - and she hands him over a big bag of cash from the puggy machine.
Viewers may remember the actor who plays the Choirmaster from City Lights in the 1980's. The actor Dave Anderson played Mr McLelland the bank manager whilst the lollipopman was the actor Iain McColl who played Tam. Edith was played by actress Maureen Carr.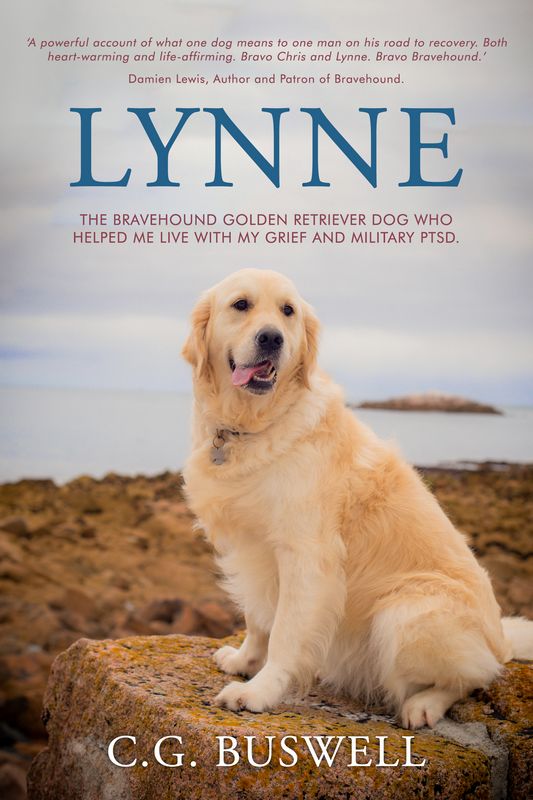 Have you seen my beautiful golden retriever Lynne out and about in Aberdeen? Ask her for a high-five! She's a Bravehound PTSD assistance dog, so we'll often be in shops, restaurants, and the cinema together.
We've written a book where I talk about growing up in Aberdeen and then joining the army to be a medic and nurse, and developing military Post Traumatic Stress Disorder.
I also talk about losing my son to suicide and the therapy I have had at Royal Cornhill Hospital and grief support groups in Aberdeen.
The author, Damien Lewis, said of Lynne:
"A powerful account of what one dog means to one man on his road to recovery. Both heart-warming and life-affirming. Bravo Chris and Lynne. Bravo Bravehound."
Download
.
Buy the paperback
.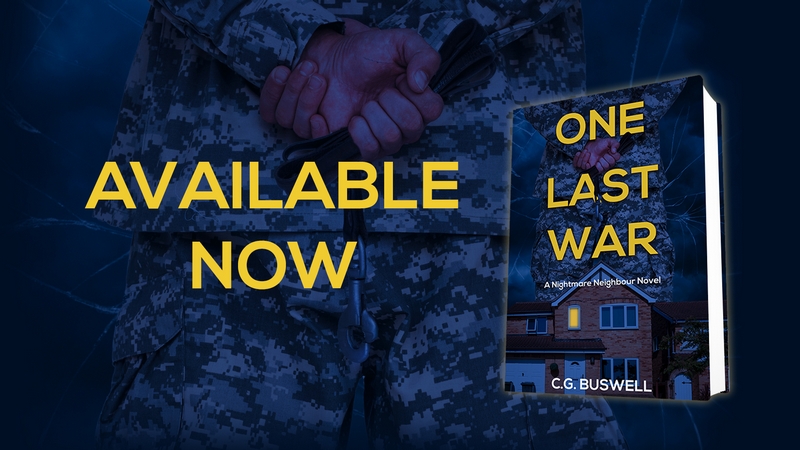 An army veteran moves his family back to his Aberdeenshire home, but his nightmare neighbour starts a battle of wits with him. Who will win this One Last War?
Buy this latest novel by local author C.G. Buswell on
Kindle
or
Paperback
.
Advertise Here from just £90.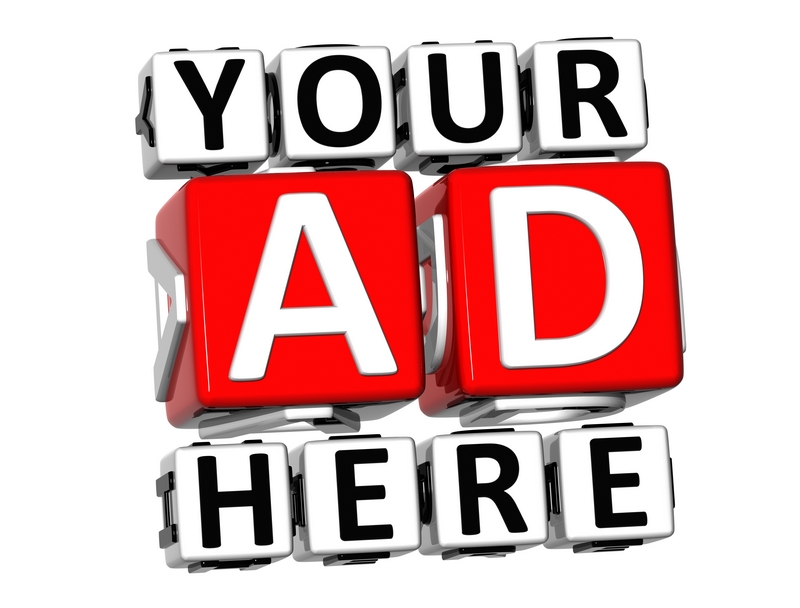 Still Game Hogmanay Special
The Still Game Hogmanay Special for 2007 to 2008 was broadcast on Monday December 31 2007 at 11:15pm. It made history when Navid (Sanjeev Kholi) and his shop cleaner Isa (Jane McCarry) had a snog at the Hogmanay Bells. He decided to kiss Isa after seeing his wife, Nina, with a love rival and wanted to make her jealous. Meanwhile Jack (Ford Kiernan) and Victor (Greg Hemphill) have a race with Winston (Paul Riley) and Tam (Mark Cox) to a Highland retreat to enjoy a quite New Years Eve celebration.
It was called Hootenanny and began with Navid saying a fond farewell to his wife Nina as she got into a taxi. Yet the moment she went round the corner he was leaping about in delight at the freedom he was about to enjoy. So he flicked through a naughty magazine from his top shelf, cracked open a can of fizzy drink, ate some sweets and a microwave curry. His new single life continued with Indian music playing in the shop and watching television. He marvelled at their exciting single life as they bought...a jar of ovaltine!
At The Clansman Tam is chatting to one of the locals who is in his disability scooter. He says he can no longer enjoy his holiday cottage in the Highlands Island Tighnahulish and that it will be empty this New Year. He sees an opportunity for a cheap holiday and buys him a whisky.
Navid is no longer enjoying his freedom because Nina's former boyfriend, the Bollywood actor Natterjee, is with her and he is getting jealous. He daydreams of him sweeping Nina off her feet while riding a horse. When he wakes up he starts throwing darts at a poster of Natterjee.
He persuades Jack, Victor and Winston to chip in and travel to the hogmanay cottage at the remote Tighnahulish Island. They agreed to rent a mini bus but he saves money by getting Navid's van and throwing a smelly old mattress in the back for them. They decide to make their own way there and agree to race to the Island. The next scene shows them come off a private chartered jet! They then get a taxi to a remote red phone box overlooking the Highland Island and phone for the boat. Two pretty young lassies arrive and row them to Tighnahulish Island.
Meanwhile he and Winston have broken down and are hitch hiking in a Morris Minor driven by an old couple doing 20 miles an hour. They then get dropped off in the middle of nowhere and fall down a hole. When recovered they then get a ride in a tractor!
At Tighnahulish Island they meet the Islanders - all five of them! They enjoy a drink in the bar and get comical about the size of it and the barman throws them out. They go to the cottage to discover it cold, bare, dusty and lonely, but they do have lots of beer, crisps, swiss roll and sandwiches. They try and get back into the pub and win over the barman by saying how beautiful Tighnahulish Island is. They get back into the bar and order some more whisky. The other man in the bar orders soup and a steak pie meal. The barman offers them a meal but they proceed to take out their own food and then get barred.
Back at Craig Lang Eric, Isa and Navid are seeing in the New Year at Navid's house. There is little chat and then she and Eric admire his big flat TV so he switches it on to see India celebrating New Year - and on the telly is Nina kissing his love rival Natterjee. He throws the TV across the room and then midnight sounds and they wish each other a Happy New Year. When she wishes him a Happy New Year he kisses her.
Winston and Tam finally get to the phone box and ring the pub for the boat trip to the Island. The barman walks across to the holiday cottage and tells them that he wants them to see their pals and un bars them from the pub. They all go across for a dram to see in the New Year. At midnight the bar man wishes them a Happy New Year and fondly calls them weegies. Jack is caught up in the moment and calls them a bunch of sheep sh***ers and promptly gets barred again! The credits roll and at the end we see Navid and Isa coyly seeing each other again. He drops the milk and they both crouch down to pick it up, look into each other eyes and start to draw near for a kiss...
Still Game Series 6
Episode 1 - Hot Seat. This was broadcast on BBC2 at 10pm on Thursday 12 July 2007. It was repeated on BBC 1 at 10pm on Sunday 15 July 2007. Craigland experienced a heat wave and Jack (Ford Kiernan) was trying to keep cool by steeping his feet in a bowl of water filled with ice cubes. When Victor (Greg Hemphill) came to visit he was offered a cold drink and when he accepted he dunked a glass into the water! Gaads! They head for the Clansmen (though it still says Jenny's on the sign outside - anyone know why?). The beer is hot but Boabby (Gavin Mitchell) is not without his shirt! Topless Boabby puts the customers off their beer with his pasty white body. Tam stops some kids playing with the fire hydrant and when he fixes it he gets shot away in a spurt of water.
In an attempt to cool down and enjoy the rare Scottish weather they visit the local park which is heaving. They are envious of a couple who have a bench at the top of the hill overlooking the park. They decide to get into the park early to get a seat. The next day they are flummoxed to finds Tam (Mark Cox) and Winston (Paul Riley) already seated. They have to run to the bottom benches and fight off a pensioner with a walking stick only to get squeezed by a large sweaty man.
Meanwhile back at the shops in Craiglang Navid (Sanjeev Kohli)is having to give refunds of melted chocolate to the local junky mum. An hilarious scene sees him get an eyeful of melted choccie.
No matter what they do they cannot get into the park before them, even climbing the fence with a ladder. During this they fall about and see them getting a lift into the park early in the staff entrance from hiding in the ice cream van.
During this Isa (Jane McCarry) learns that her ex husband Harry has died and her friends encourage her to find a new man friend. The trouble is they are so pretty and the men fancy them instead. So she goes to the park with the small woman with the big teeth, hunchback and deep voice that Victor blind dated last season. But even she goes off with a man. She sits on a park bench and a man sits next to her to read a paper. She takes the plunge, chats to him and plucks up some courage to ask him to the tea room. But he can't come just now because he is doing something unmentionable under his paper!
At the end she finally meets a nice old man, who is about to retire. He guides her through the identity parade to identify the man from the park.
2 - Fly Society was originally transmitted on Thursday 19 July 2007 at 10pm. It is Tam's turn to pay for the pies and beans at the bar but he answers a radio quiz on the pub phone in an effort to get out of paying. He wins when he answers the question What is the name of Captain Nemo's ship with the correct answer of Calypso. When the DJ asks about him he pretends to be a rich millionaire who made his fortune in beetroot. He won two tickets to the theatre and a meal and wine before the show. But his wife is at her sister's so he auctions the prize. The only bidders are Jack and Victor with £10, which Boabby takes for payment for the pie round.
They enjoy soup and spaghetti at the restaurant and meet a merry rich widow and her friend a divorcee who have their eyes on our boys. They decide to play the same as Tam and pretend to be rich single business men. The women get more and more interested and invite the lads to a country house shooting party.
They get a lift in Navid's van from Tam though are dropped off at the end of the driveway and throughout the day's shoot and evening meal they pretend to have land East of Mombasa in Kenya which raises the suspicion of a fellow guest.
Back at the Clansmen pub he grows suspicious of their behaviour and talks to Isa who uncovers what they are up to through her powers of nosiness. They decide to gatecrash the party.
After their arrival at the big house a small painting is missing, the Laird's portrait of her grandmother. As he leaves the room to phone the police each guest reveals they are not who they claim to be, even the lady socialites - each are from Glasgow and have no money - they flee out of the window and go back to Craiglang just as Navid arrives at the door dressed as an Indian Prince!
3 - Lights Out was originally transmitted on Thursday 26 July. A lorry ran into the Parkmill Power Station when the driver stopped to answer a mobile phone call and left his handbrake off. The power and lights to Craiglang go out and stay out for several days and nights.
Winston is helping his friend Joe Nadair move into the ground floor of the tower block. His pal soon gets him doing odd jobs around the flat such as plastering a hole in the ceiling and painting over the damp patch. Joe even gets him to catch a bus to the nearest chippie for a fish and chip supper.
At The Clansman (now advertising Fusilier Beer from Chewin The Fat!) Boabby is serving ale by candlelight but the charity box goes missing. One of the old regulars, Shug (Paul Young), an ex army man, warns that anarchy is starting. He predicts that the estate will become over run with night crawlers. Shug reveals his secret weapons of a baseball bat with a huge sharp nail hammered in, a tazer, blue ink that stains a burglars skin for weeks and a sock with a snooker ball in it. His predictions come true when Isa's flat is burgled.
The lads get some of Shug's blue ink and when their door is rattled they open it and squirt the would be villain - straight into the face of Isa who was only checking they had locked their door. She now had the nickname of Braveheart!
Panic buying starts at Navid's convenience shop and he runs out of stock, except for orangeade drinks.
The ground floor window of Joe is smashed whilst Winston is there and he squirts some indelible blue ink onto the hand that tried to unlock the window.
There is more noise in the flats and the pensioner's get together and meet some policemen on the landing. The lights and electricity is back on and one of the Bobbies has a blue hand and the OAPs realise they are pretending to be the police. Isa gets away and tries to phone the real police but she talks too fast and they think she is drunk. The false police rob the men pensioners of their watches and wallets and make their way down in the lift. Behind them is Winston in a disabled buggy and when their backs are turned he wallops them over their heads with a snooker ball in a sock.
The regulars are back at The Clansman pub talking about how the cause of the electric failure was a big shoot out involving helicopters and car chases. It ends with a view of the truck driver listening to them tell their tall tale.
4 - Seconds Out was originally broadcast at 10pm on Thursday 2 August. Boabby, the landlord of the Clansman, has organised a celebrity to open up festivities at the bar. The lads joke it is a has been and are pleasantly surprised that it is Jim Watt the 1979 World Lightweight champion boxer. After his arrival there is a cameo appearance by the singer Michelle McManus who has to leave because Baobby over booked celebrities!
The drinkers at the Clansman bar are delighted to hear about the stories of Jim Watt's boxing days, but are not impressed that he doesn't put his hands in his pocket to buy a round of drinks. Jim Watt does however give them free gym passes to his Shawbank gym
On the way home to Osprey heights tower block at Craiglang they come across a soon to be opened take away pizza. They make do with their usual manky chipper but look forward to pizzas the next day.
They order a pizza and it is delivered by the new delivery boy, Winston. He berates them for only giving him a five pence tip but has the last laugh when they open their pizza box to find a half eaten pizza.
Boabby pops into the new take away pizza shop to chat up the assistant, Stacey. He agrees to meet her at the gym and uses his free pass. But Stevie the bookie (actor Matt Costello) has his eye on Stacey too and goes weight lifting at the gym to impress her. He gets the first date but the drinkers at Craiglang encourage Boabby to tell Stacey some jokes to win her over. He gets a date with her and Stevie the bookie attacks him at the gym and Jim Watt breaks it up and tells the lads to fix their differences in the boxing ring. He sets a date for a boxing match between Boabby and Stevie.
Meanwhile they read the small print in the pizza menu and are delighted to see that if it takes more than 30 minutes for him to deliver the pizza they get it free. So each night they try to delay him, but each night he manages to make the delivery even when his moped has punctured tyres from a home made stinger, he just uses his friends disabled buggy. When the doors to Osprey heights are barricaded shut by Jack with a broom he uses a crane and smashes their window to deliver the pizza.
At the boxing bout Jim Watt asks Stevie and Boabby why they are fighting and tell him about the remarkable breasts of a woman they are fighting over just as Stacey walks in and says hello to Jim, her dad - he knocks them both out.
The comedy sketch ending shows Michelle McManus getting five pizzas delivered. She grabs them and slams the door on him. He asks for money but she swears at him and says he took later than 30 minutes!
5 - Hyper was originally broadcast on the 9 August. Navid's grocery and convenience store is dead from lack of customers but Tam is delighted because he can get discounted cornflakes and buys seven boxes for £2. At home he gets a phone call from his wife berating him for not buying a new toaster. He makes some toast and prepares his knife to scrape off the black bits. He touches the toaster and gets electrocuted. He is fine but becomes a changed man. Gone is the meany and in is the generous Tam who buys rounds at the Clansman and buys the local kids mini motos. Winston discovers this and gets a new jacket, steak meals in restaurants and a frost free fridge freezer.
Word spreads about a new discount superstore called Hyperdeals that is undercutting him. The pensioners of Craiglang and Osprey heights soon start shopping at Hyperdeals. Even Boabby the barman buys a new microwave and decent pies.
he walks around Hyper Deals looking at prices and cries in despair. He shouts Et Tu Isa as he sees her shopping. He has to let her go because he has to close Navid's because no one shops at his newsagent. He goes to the Clansman and has a go at the pensioners for not supporting him when over the years he has supported them by opening at all hours and giving them tick when they were down on their luck.
At Hyperdeals the store is about to close and Jack, Victor, Winston and Tam are about to leave when they hear someone hidden in a tent. It is Navid with a can of petrol. They go into the display tent and persuade him to come home with them but when they leave the tent the characters are locked in Hyperdeals. The shutters are down and the phone does not reach the outside. They consider it a lock in and celebrate by drinking free fusilier beer off the shelves and start eating the food. Tam is still honest and happy and insists they leave money. He relaxes on an electric massaging chair but spills his fusilier beer. He gets another electric shock and reverts to being a mean old person. He realises he is locked in a shop and goes wild claiming free things. The other lads have to lock him in a cage.
He decides to start a BBQ but needs to start it. He asks Navid for some petrol to light the barbeque. The scene cuts to firemen and a fire engine! The lads sneak away, pushing a crazed Tam in his shopping cage.
This ends with a happy Navid who now has a Post Office in his shop. He realises the OAPs get their pension and then walk a few yards to spend it on groceries.
6 - Recipe was originally broadcast on the 16 August. They rush to the bakers to eat a hot beefy bake. Whilst munching on it outside the bakery they meet Winston who saw the same TV advert and can't wait to eat a beefy bake. They walk home and see Pete the Jakey looking smart and washing car windscreens. He gets £5 from one driver and when he sees the next driver he looses his temper and throws the bucket of water over him. They hold him back and Pete the Jakey explains that the man was his old boss who stole his recipe for beefy bake.
At the Clansman Pete the Jakey orders a whisky but Boabby encourages him to stay on the wagon and have an orange juice. The lads their support by ordering whisky for themselves and a couple of Fusilier lagers! Pete the Jakey tells his story of inventing the beefy bake but the lads do not believe him. So off they go to Jack's flat at osprey Heights at Craigland to get him to cook a couple of beefy bakes. Once tasted they know that Pete the Jakey is telling the truth. They decide to take action and visit the bakery offices.
Isa is talking to Frances and is getting fed up with the tight ways of Tam, they even have to share the same denture cleaning tablet and denture tumbler. She says she no longer feels like making love to him. Isa asks Navid to have a man to man chat. Tam decides to wine and dine her and takes her to The Clansman for pie and beans! Frances gives him an ultimatum that he changes or she leaves. He does change his ways and treats her to a Chinese take away meal and she takes him to the bedroom.
They meet the managing director who denies that Pete the Jakey invented the beefy bake and offers him a glass of whisky from a world globe drinks cabinet. Pete is tempted and the MD tells them that is why Pete the Jakey was sacked, because he likes the drink too much. Meanwhile Winston is pretending to be a health inspector and goes to the production line to taste free beefy bakes. They all get booted out and decide to take the baker to court.
Nine months later they have had a baby even though they are in their sixties. Tam's eyes light up when the Still Game cast do the Scottish tradition of giving the new born baby money in its palms for luck. Fiver after fiver is counted!
They represent Pete the Jakey in court and look to be winning until Pete the Jakey turns to drink during the recess. He met the MD in the toilets and struck up a deal. The case is dismissed and the end shot of Still Game shows Pete the Jakey waking up under the canal bridge and going to a world globe drinks cabinet for his breakfast.
7 - One In One Out was originally broadcast on Thursday the 23 August. They make the news after giving birth at the age of 64. Lorraine Kelly interviews them on live television as an oldest mother in Britain feature and during the interview Lorraine asks if they have had any advertising freebies. His ears prick up and he gives out his telephone number and address live on air asking companies to get in touch before the producer and Lorraine Kelly pull the plug on his free ad. The regulars are watching at the Clansman over a few Fusilier Lagers. They also hear him volunteer Isa for baby sitting and she vows not to answer her door!
He has a meeting with baby food and nappies manufacturers and asks them to baby sit because she is not answering her door. They reluctantly agree and whilst he is negotiating 1 pence per jar of baby food they are at the end of their tether when wee Tam is crying loudly. Victor goes to get her and Jack heats the baby bottle. When they return they find Jack collapsed on the floor. At the hospital he undergoes heart tests. Victor sits at his bed and then leaves to get him pyjamas and falls down the stairs. He ends up in the bed next to Jack with his arm in a stookie and undergoing heart tests. His tests come back fine but Jack needs a heart bypass.
Jack phones his daughter, Fiona, and tells her not to come. But she arrives as he goes into the operating theatre. He dreams of meeting his dead wife on the stairs to heaven but then Victor appears and orders him back to earth.
They finish their TV ad but the producer gets a call to check the newspaper. There is an article about a 65 year old who has had twins. The crew pack away and he has lost his contract. Roll on series 7 of still game!
Scottish BAFTA Award
In November 2007 it won a Scottish BAFTA Award. This was the People's Choice Award which is much coveted in the Television and film industry because it is the one BAFTA award voted by the general public. This proves that it holds a special place in Scotland's heart when they won The Lloyds TSB Scotland Awards for Most Popular Television Programme in the Individual Special Awards category.
The host for the Scottish BAFTA Awards 2007 was Lorraine Kelly and her co host was Stuart Cosgrove.
Ford Kiernan and Greg Hemphill were also nominated for a Best Writing TV BAFTA award and the Best Comedy or Entertainment category. Sanjeev Kohli was also nominated for best actor in television for his role as the shopkeeper Navid Harrid whilst Jane McCarry who plays nosey Isa Drennan was nominated for best actress in television.
Still Game Hogmanay Specials
The Still Game hogmanay 2006 special was called The Party and saw Winston, Isa, Victor and Jack stuck in a lift in their tower block. Whilst waiting for the lift engineer to fix the lift in the early hours of 2007 they reminisce about the 1970s. This gave us the viewers a chance to see how the characters met and what they looked like. We also got to meet Victor's wife and watch Jack throw up all over her! He ate too many pakoras and samosas brought to a party by a young Navid and his wife whose face was once more hidden - under a pile of popadoms. He spoke no English and we saw him learn Scottish slang and swear words from the other party goers.
As a New Year treat we saw a naked young Isa, though the actress Jane McCarry was too shy and had a body stunt double for her topless scenes!
All is well in the lift as the pals enjoy a beer or two, until Winston needs a pee! The local neds talk to them through a gap in the door and fleece the pensioners out of £10 each to get help - after their own party the next morning!
Did you spot the continuity error - when Isa first had a small black handbag then a large brown handbag?
Still Game Series 5
1: Drama
2: A Fresh Lick
3: Smoke on the Water
4: Hard Nuts
5: All the Best
6: Saucy
Still Game Series 4
1: Kill Wullie
2: Wireless
3: Dial-A-Bus
4: Ring
5: Hatch
6: Who's the Daddy?
7: Christmas Special: Cold Turkey
Still Game Series 3
1: Holiday
2: Swottin
3: Cairds
4: Big Yin
5: Oot
6: Aff
Still Game Series 2
1: Gairden
2: Wummin
3: Doacters
4: Brief
5: Tappin
6: Scran
Still Game Series 1
1: Flittin'
2: Faimly
3: Cauld
4: Courtin
5: Doctors
6: Dog
Cast List of Still Game
Ford Kiernan - Jack Jarvis
Greg Hemphill - Victor McDade
Mark Cox - Tam Mullen
Paul Riley - Winston Ingram
Jane McCarry - Isa Drennan
Gavin Mitchell - Boabby
Sanjeev Kohli - Navid Harrid
James Martin - Eric
Paul Young - Shug
Richard Wallis - Young Ryan
Jamie Quinn - Fergie
Finlay McLean - Father Graham
Stevie Allen - Manky Frankie
Kate Donnelly - Frances
Lynne McCallum - Peggy
Anna Cairns - Tracy
Matt Costello - Stevie the bookie
Jake D'Arcy - Pete the Jacky
Tom Urie - Martin
Clive Russell - Big Innes
Billy Boyd - Young Man at the Railway Station
James O'Hara - Man at Barras
Ian Sexon - Newsreader
Maureen Carr - Edith
Iain Davidson .... Gunman
Carter Ferguson .... Thirsty Laird Barman
Kay Gallie .... Bingo Woman
Ryan Hassan .... Pat
Brian Pettifer - Bert Finlay
Marj Hogarth .... Fiona
Eileen McCallum .... Barbara
Robbie Coltrane - Davie the depressed Dial-A-Bus driver
John McCririck - as himself
Ida Schuster - Second Bingo Woman
Rab Affleck - Mick
David Goodall - Policeman
Ricky Callan - Workman
Bill Torrance - as himself
Dorothy Paul - Molly Drummond
It is made by the Comedy Unit production company.
Still Game Theatre
Before the Still Game TV series Greg Hemphill (Victor), Ford Kiernan (Jack) and Paul Riley (Winston) wrote a Still Game stage play in 1997 and toured the show around the UK and Canada (home of Greg Hemphill) in 1999. The Cottiers Theatre, Glasgow, Scotland performance was filmed on 5 March 1999 and released on DVD as Still Game: Live In Glasgow.
Still Game Theme Tune
The Still Game theme tune theme tune is taken from the track by the Cuban Boys called Cuban Boy (Cuban Boys Go Boom! mix) from their debut album Blueprint from Modernisation.
Read the biography of Ford Kiernan
.
Read more about Greg Hemphill
.
More Scottish Comedy
.
The Sunday Post have nicknamed Victor and Jack the Scottish Odd Couple.
To relax Ford Kiernan has a hobby of collecting watches.