Home
>
Robert Burns
>
Robert Burns Biography
Robert Burns Biography
Robert Burns The National Poet of Scotland biography with information about his family, his loves, his works and his life
: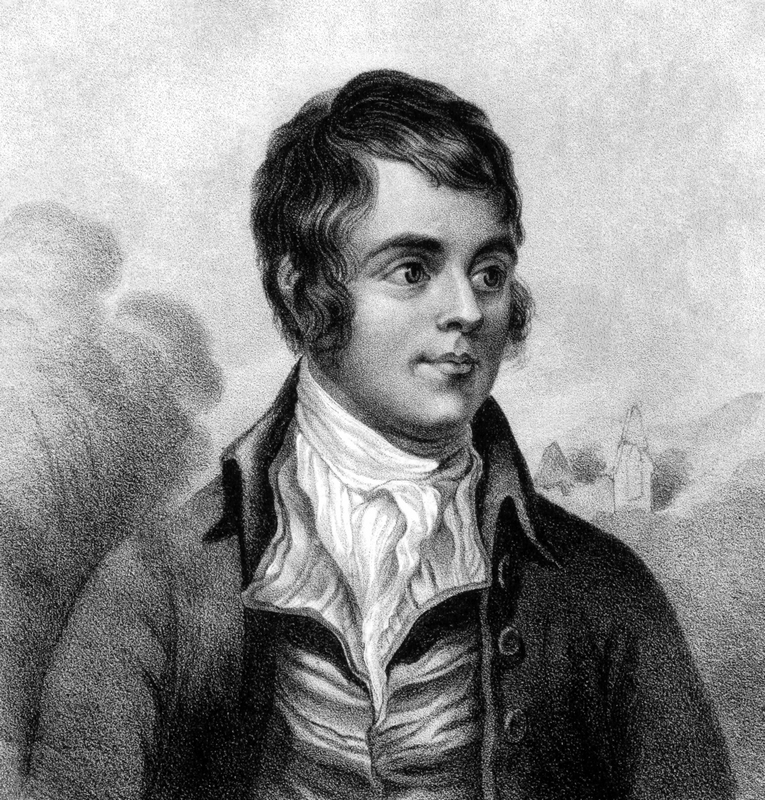 Robert Burns was born on the 25th January 1759 in a clay cottage in Alloway, Ayr built by his father. The name of Robert Burns parents were William and Agnes Burnes though Rabbie dropped the e from Burnes. The brothers of Robert Burns were Gilbert, William and John and his sisters were Agnes, Annabella and Isobel. The maiden name of Robert Burns mother was Broun and she was born in 1732 at Maybole.
His father was a poor farmer and initially ran a market garden, He invested in education for his sons, in particular English grammar and composition. To achieve this he leased nearby Mount Oliphant farm and then pooled financed with other farmers to hire a schoolmaster called John Murdoch to teach all their children. Like most farm children the opportunity for formal education was limited because children had to help on the farm, especially at harvest time. This hard physical work caused Robert Burns to develop the heart condition rheumatic fever which was later to claim his life at an early age.
The Complete Poems and Songs of Robert Burns
Follow us on:
Instagram
,
Twitter
and
Facebook
.
Contact Me
.
My new novel: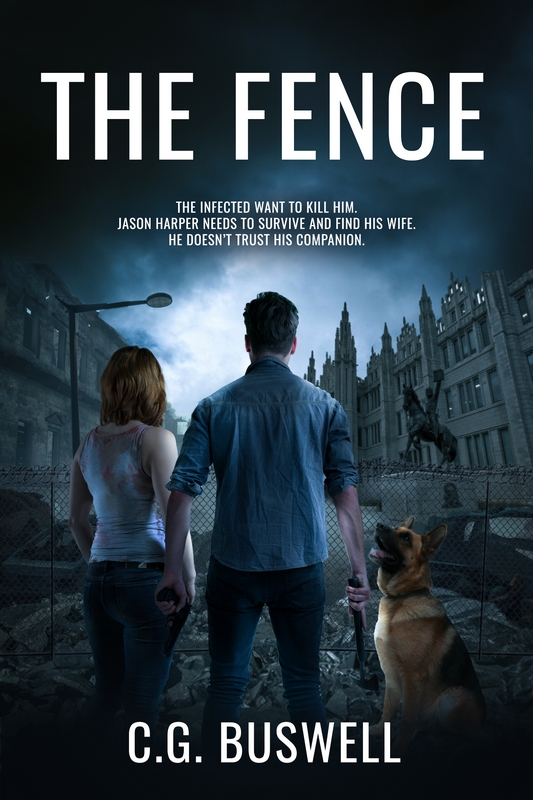 The Aberdeen skies are under attack from an enemy jet. It is spilling a strange yellow smoke. Minutes later, people start killing each other.
Former Royal Air Force Regiment Gunner Jason Harper witnesses this and then his wife, Pippa, telephones him, shouting that she needs him. They then get cut off. He sets straight out, unprepared for the nightmare that unfolds during his journey. Everyone seems to want to kill him.
Along the way, he pairs up with fellow survivor Imogen. But she enjoys killing the living dead far too much. Will she kill Jason in her blood thirst? Or will she hinder his journey through this zombie filled dystopian landscape to find his pregnant wife?
The Fence is the first in this series of post-apocalyptic military survival thrillers from the torturous mind of local horror and science fiction novel writer C.G. Buswell.
Download Now.
Buy the Paperback.
The Bard
The Bard
is a new biography of Robert Burns by Robert Crawford a professor of Modern Scottish literature at the University of St Andrews. The Bard is timely published to co-incide with Homecoming Scotland 2009 which celebrates the 250th anniversary of the birth of The Bard.
Robert Crawford draws on a wealth of letters, manuscripts, journals, interviews, publications and the Bard's poems to bring to life his energy and creativity through his life and works.
Buy Now.
During his upbringing Robert Burns was entertained by his mother, her cousin Betty Davidson and their maid with stories of witches, warlocks, kelpies, ghosts, devils, brownies and other beasties and traditional Scottish songs and ballads all of which would inspire some of the more famous work such as the tale of
Tam o' Shanter
and other poems.
The Loves of Robert Burns
In 1777 the family moved to Lochlea at Tarbolton and Robert developed an interest in lassies which earnt him a reputation as a womaniser throughout his life and indeed continues well after his death. He did have other interests such as setting up the Bachelor's debating club at Tarbolton, though his love of the lassies did inspire some wonderful poems for his sweethearts such as Nelly Kirkpatrick, Peggy Chambers, Meg Cameron, Mary Campbell (Highland Mary), Anna Park, Nancy McLehose, Maria Liddell, Lesley Baillee, Jessie Leward and Jenny Clow. Such poetry included Ae Fond Kiss, The Rigs o Barley and the much loved A Red, Red Rose. His keen eye for the women was his other inspiration, whose love inspired such poems as
The Lass of Cessnock Banks
,
Bonie Peggy Alison
and
A Red, Red Rose
.
Robert Burn's first love was Nelly Kirkpatrick who inspired him to pen
Handsome Nell
.
In 1784 on the 17 February his father died and Robert Burns, being the eldest son, became the head of the family and provided for them financially. Fortunately he was soon to become a popular poet and gain financial security. The family moved to Mossgiel farm at Mauchline. During this time Robert Burns had an illegitimate daughter with a servant girl called Lizzie Paton. Robert Burns is said to have had many illegitimate children which included his daughter Elizabeth with Anna Park who died giving birth to their child. She is said to haunt the
Globe Inn
.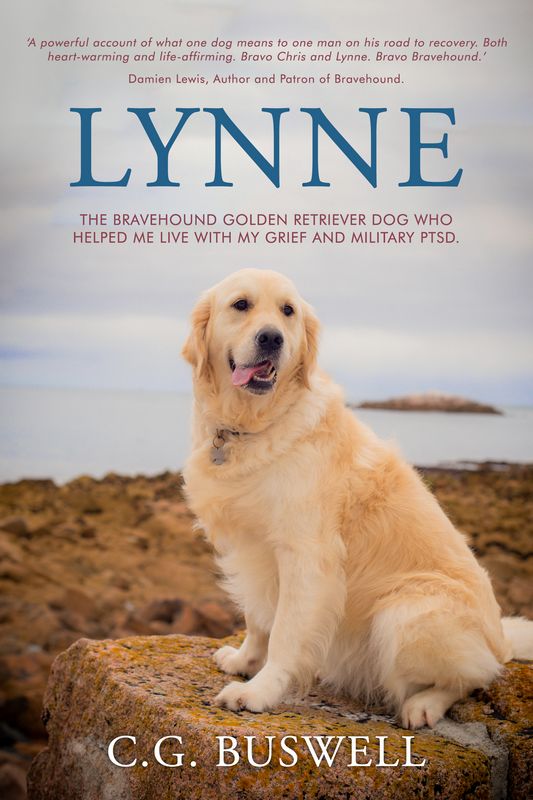 Have you seen my beautiful golden retriever Lynne out and about in Aberdeen? Ask her for a high-five! She's a Bravehound PTSD assistance dog, so we'll often be in shops, restaurants, and the cinema together.
We've written a book where I talk about growing up in Aberdeen and then joining the army to be a medic and nurse, and developing military Post Traumatic Stress Disorder.
I also talk about losing my son to suicide and the therapy I have had at Royal Cornhill Hospital and grief support groups in Aberdeen.
The author, Damien Lewis, said of Lynne:
"A powerful account of what one dog means to one man on his road to recovery. Both heart-warming and life-affirming. Bravo Chris and Lynne. Bravo Bravehound."
Download
.
Buy the paperback
.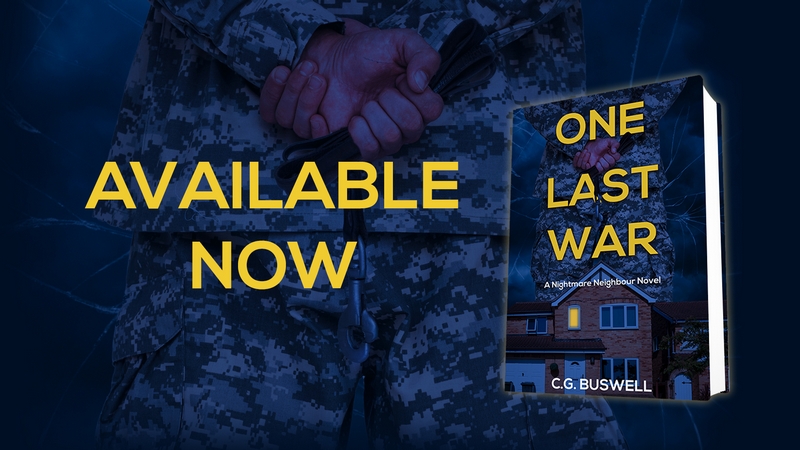 An army veteran moves his family back to his Aberdeenshire home, but his nightmare neighbour starts a battle of wits with him. Who will win this One Last War?
Buy this latest novel by local author C.G. Buswell on
Kindle
or
Paperback
.
Advertise Here from just £90.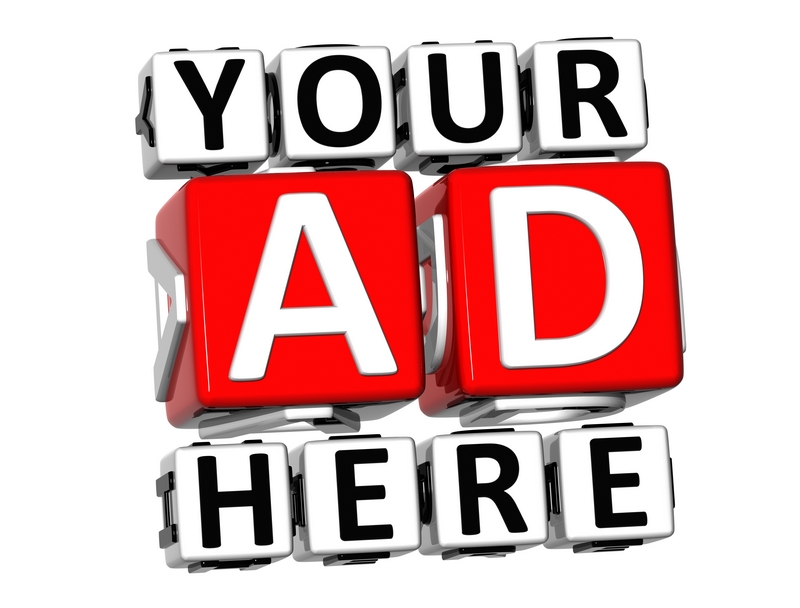 Jean Armour
In 1785, his girlfriend and true love, Jean Armour, became pregnant, but their marriage was prevented because her parents considered Burns to be an impoverished and rebellious versifier. Even the local minister for Mauchline, the Reverend William Auld, was against their marriage, though Burns did not help by satirising the church in his poems and verse. He disliked what he considered the hypocrisy and narrowness of the Church. During this time Robert Burns considered emigrating to Jamaica.
Poems Chiefly In The Scottish Dialect
A year later 36 poems by Robert Burns were published in the book
Poems, Chiefly in the Scottish Dialect
- The Kilmarnock Edition and this became a best seller and sold out within the first week of 31 July 1786. It cost three shillings and there were 618 copies printed, though some sources state 612 copies. Burns moved to Edinburgh to work on a second book and then toured Scotland. This tour of Scotland took Robert Burns to the
Culloden Moor battlefield
, the Highlands, the site of the Battle of Bannockburn and at Castles like Blair Castle (staying with the Duke and Duchess of Athole) and Castle Gordon at Fochabers. He then moved to Dumfries to a farm called Ellisland on the 11 June 1788 to become a farm owner rather than a farm labourer.
Robert Burns returned to Mauchline for a short time and resumed his relationship with Jean Armour who had borne him twins whom she named Robert and Jean. She soon became pregnant again and they were at last married in April 1788 and returned to Ellisland as man and wife with their children. Unfortunately Robert Burns had given too much money to support his mother and keep the Mossgiel farm going. So he had to take an additional job as a Customs Excise man. It was rumoured that he took bribes of whisky, but records show he was fervent in his duties. Having to ride hundreds of miles a week in all weathers during his Excise duties whilst trying to farm his land caused Robert Burns health to deteriorate so he gave up farming and moved to Dumfries to work full time for the Excise.
A highly recommended book of Robert Burns Biography is Robert Burns A Life written by Ian McIntyre and updated in 2009 for Homecoming Scotland 09.
More Information.
During the French Wars his earnings were much reduced because there was few imports and an Exciseman's wages depended on imports. At times Burns suffered from depression and further ill health. He joined the volunteer regiment during this time of the French Revolution though this caused him more money worries when he was dunned by the tailor for payment for the cost of his uniform. His health worsened and his doctor suggested sea bathing at the Brow of the Solway Firth. This did not work and in fact made his health worse. He worried over his debts, his family's future and his wife Jean who was about to give birth.
Robert Burns Death
Robert Burns died on the 21 July 1796 at 5 am, aged 37 years. Many think he died of alcoholism, but in fact, Robert Burns died of Rheumatic Heart Disease on the 21st July 1796 which is thought to have been caused by overwork on the farm at a young age. If you have read a Robert Burns biography that states he died from alcoholism then please ignore this factual inaccuracy.
His funeral was at St Michael's Kirkyard in Dumfries. on the same day Jean Armour gave birth to their ninth child, Maxwell Burns.
Another book of his poems was published after his death and this helped his widow, Jean, and their children. Family, friends and readers of Burns' poems gave money to help support his family, notably John Syme and Alexander Cunningham. Jean died in 1834 and was buried next to her husband. She was survived by three of her sons.
Robert Burns Suppers
Several years later the body of Robert Burns was reinterned in a better grave under a marble pillared monument tomb at St. Michael's Church in Dumfries.
Burns Night Suppers
were celebrated throughout Scotland within a few years of his death and a Burns Festival was celebrated at Alloway in 1844. Over 900 areas in different parts of the world celebrated the centenary of his birth in 1859.
The Burns Federation was founded in Kilmarnock in 1885 and co-ordinated the Burns Clubs throughout Scotland, throughout the UK and worldwide.
Robert Burns Nicknames
Robert Burns is fondly nicknamed The Son of Scotland, The Heaven Sent Ploughman and The National Poet of Scotland. His nickname by his wife, Jean Armour, was Robin. His friends called him Rabbie or Robbie and ever Bob, though many Scotsmen called Robert are known as Bob. Other less favourable nicknames of Robert Burns are the unlettered ploughman.
Robert Burns Aberdeenshire
Robert Burns had an Aberdeenshire connection. His father (William Burnes - Robert dropped the e in his surname) used to farm in the Mearns, near Stonehaven in Kincardineshire, area and there is still a cairn on the A90 lay by to commemorate him. William Burnes moved from the North East of Scotland in 1750 to Edinburgh to work on the Meadows project. He then moved to Alloway where he first worked as a gardener on the estate of Provost Fergusson. In April 1766 he took a 12 year lease on the 70 acre farm Mount Oliphant from Provost Ferguson.
Robert Burns Museum
Robert Burns Museum
opened in 2011 and was officially opened on Friday 22 January 2011. It is officially called the Robert Burns Birthplace Museum. In addition to this building that houses manuscripts and artefacts of Robert Burns such as bibles, socks and writing set, there is also the Burns Cottage where Robert Burns was born, the historic landmarks which were the inspiration for some of his poem and a garden and monument created in his memory. Other features at the Robert Burns Museum include Robert Burns biography items such as a wood engraving of Tam o� Shanter
The Robert Burns Museum is interactive for adults and children. For more information about the Robert Burns Museum visit www.burnsmuseum.org.uk
Robert Burns Bible
In August 2009 Bonhams auctioneers in Edinburgh auctioned a Robert Burns bible during their Scottish sale. This pocket bible was used by Robert Burns during his time at Brow Well in Dumfries. a schoolmaster found the bible in 1840 near to Clarencefield. It was thought that the Robert Burns bible would be sold for up to �2000.
The Robert Burns bible sold for �2600 to Paul Fraser collectibles of Bristol. It will be auctioned again in 2010 and two collectors are already showing an interest with prices thought to be as much as �30,000. The Robert Burns bible is preserved in a blue velvet lined Moroccan box with Burns Bible lettered on the gilt. It was last shown in public during the Burns Exhibition in Glasgow Scotland in 1896.
From the Robert Burns biography it was traced that this bible was read by Rabbie whilst he was recovering at Brow Well from the heart problems he suffered. They were wrongly diagnosed by his doctor as gout. The Robert Burns bible is also referenced in the 1880 Relics of Burns manuscript.
Homecoming Scotland 2009
Homecoming Scotland 2009
is a celebration of the 250th anniversary of the birth of Robert Burns. Homecoming Scotland 2009 will also be a celebration of Scotland, our tradition and culture and traditional Scottish activities such as golf and whisky. It takes place between Burns Night and St Andrews Day. Events include a Homecoming Burns Supper in Alloa, Burns Night torch light procession through Dumfries and prizes for the strangest places to hold a Burns Supper. Supermarkets such as Tesco held special offers during Homecoming Scotland 2009 such as a buy one get one free on haggis Read more about Homecoming Scotland 2009 on the official website homecomingscotland2009.com
There were many TV programmes celebrating the life of Robert burns, highlighting the Robert Burns biography and celebrating Homecoming Scotland 2009. These included The World According To Robert Burns with presenter, writer and author Andrew O�Hagan who explored his works such as Tam O Shanter and visited Ellisland Farm and the room where Robert Burns died.
No Holds Bard
No Holds Bard
was broadcast on Sunday 25 January 2009 and was a spoof programme of the Robert Burns biography and how a group of Scots prepared for the 2009 Cup O'Kindness competition which is a trophy awarded to the champion in Burns recital. No Holds Bard had a cast from the cream of Scottish talent with actors such as Denis Lawson, Bill Paterson, Paul Higgins, Laura Fraser, Forbes Masson, Ford Kiernan, Greg Hemphill, Ron Donachie, Katy Murphy and Ashley Jensen. No Holds Bard was written by Simon Carlyle and Gregor Sharp.
Following No Holds Bard BBC1 Scotland broadcast Auld Lang Syne: Robert Burns at Celtic Connections with performances of songs and music by some of Scotland�s best singers and musicians.
Iconic Burns
A special event called Iconic Burns was limited to 1000 people and were awarded by public ballot though VIP tickets were given to leading Scots such as First Minister Alex Salmond. Iconic Burns took visitors on a walk on Saturday 24 January 2009 around Alloway where Robert Burns was born. This included landmarks such as the Auld Kirk, Brig O�Doon which included a sculpture of Tam O�Shanter escaping from the witches on Meg, and his cottage. Actors and actresses played parts related to Robert Burns biography. Iconic Burns ended with a fireworks display.
Robert Burns Exhibition
One exciting event for Homecoming Scotland 2009 is the exhibition of Robert Burns memorabilia and artefacts from the National Burns Collection such as the Burns family bible, his ring, the original Tam O' Shanter manuscript and his most famous portrait painted by Alexander Nasmyth. The Robert Burns exhibition is being organised by the National Library of Scotland who are also co-ordinating items to be put on display from many Burns clubs and private collections.
The Robert Burns exhibition will start in Edinburgh and will come to Aberdeen Art Gallery in February 2009.
Learn more about Homecoming Scotland 2009 and the many events throughout Scotland at www.homecomingscotland2009.com
Snuff Box Auction
On the 3 February 2007 at Shapes Auctioneers in Edinburgh a four inch mull snuff box that belonged to Robert Burns will be auctioned. The silver mounted mull was a gift from his friend William (Jock) Hyslop and his wife Meg. William Hyslop was the landlord of the Globe Inn in Dumfries. Mull snuff boxes were much larger than personal snuff boxes and were generally used so that a large number of guests could partake in snuff during a social gathering.
The snuff box given to Robert Burns was engraved with the inscription:
Presented to Robert Burns, Exciseman, Globe Tavern, Dumfries, January 17 1796."
Robert Burns was so impressed with the mull snuff box present that he wrote this personal grace to William and Meg:
O Lord since we have feasted thus;
Which we so little merit;
Let Meg now take away the flesh;
And Jock bring in the spirit."
The snuff box is expected to fetch up to �6000 at auction.
Robert Burns On Television
A Burns Night Celebration
On Monday 25 January 2010 Burns Night was celebrated by BBC1 with the programme A Burns Night Celebration. Singers and entertainers Eddi Reader, Rod Paterson, Michael Marra and Christine Hanson sang and recited Robert Burns biography songs and ballads such as Ae Fond Kiss, Auld Lang Syne and A Red, Red Rose during A Burns Night Celebration.
On Thursday 25 January 2007 BBC2 broadcasted An Audience with Burns presented by Scottish actor Gordon Kennedy. This celebrity Burns Supper was held at Edinburgh Castle. Tributes and performances were from:
Scotch Drink recited by Actor Gary Lewis.
The Banks of Doom sung by Eddi Reader.
An Ode To A Samosa written and recited by actor Sanjeev Kohli - haggis somosas were given and eaten by the guests after his poem!
Paolo Nutini singing A Man's A Man - recorded at Glasgow Barrowlands.
To a Louse poem recited by actress Dawn Steele.
By Broom Besoms sung by Annie Grace, Karine Polwart and Corinna Hewart.
Comic Des Clarke performing stand up comedy about Rob's love for the lassies. Des Clarke finished his routine by giving the toast to the lassies.
Robbie Woomble from Idlewild sung The Lea Rig.
O Leave Novels read by Gary Lewis.
Response from the lassies by Elaine C Smith.
Dainty Davie sung by Eddi Reader.
Tam O' Shanter recited by Karen Dunbar in Edinburgh castle and in a Graveyard.
A Red Red Rose played by Aly Bain on a fiddle that was owned and used by Robert Burns.
To a Mouse read by Dawn Steele
Auld Laung Syne sung by Eddi Reader to the original music.
Phil Cunningham provided the music for An Audience with Burns.
Robert Burns On Radio
Hamish and Dougal Burns Night Special
On BBC radio 4 in 2007 on Burns Night Barry Cryer, Graeme Garden, Alison Steadman and Jeremy Hardy broadcast a Hamish and Dougal Burns Night Special. There was much a do as the residents of Glen had their first Burns Supper - no need to ask "You'll have had your tea!"
Robert Burns Trivia
The mother and father of Robert Burns were married on the 15 December 1757. His father William Burnes was aged 36 whilst his wife Agnes (nee brown) was 25 when they wed.
The Alloway Kirkyard where Robert Burns father was buried was the scene for where Tam o' Shanter encountered the witches.
Robert Burns Freemason
Robert Burns was a freemason and his fellow masons helped him to sell the Kilmarnock Edition of his first book in 1786. In particular the mason lawyer Robert Aiken would talk about the book and recite the poems to anyone he met to help Brother Burns of the Tarbolton Lodge. The nine people at the first Burns supper were said to all be masonic friends of Burns.
Read about Burns Night celebrations
.
Aberdeenshire Burns Night Events
.
More Scottish customs and traditions
.
How Did Robert Burns Die?
A common question is How Did Robert Burns Die? Aboutaberdeen consider his death to be from Rheumatic Disease from our research and readings into the life and death of the Scottish poet Robert Burns. However Dr Ian Greaves, a Professor of environmental health at the University of Minnesota and Dr Norbert Hirschhorn, a former paediatrician set out to investigate the cause of death of Robert Burns in 2007. They are to study his handwriting because they think Robert Burns may have been accidentally poisoned by mercury. Dubbed the medical detectives, they have already investigated the death of Abraham Lincoln and Louisa May Alcott. They belief that both were accidentally poisoned by mercury. Abraham Lincoln took a pill for his depression that contained mercury and may also have caused his mood swings and nerve damage whilst there was strong evidence that Louisa May Alcott was poisoned by accident. She had lupus and had signs of mercury overdose such as a rash on her face.
The doctors think that Robert Burns was given mercury to treat his liver disease just before his death in 1796. After the death of Robert Burns one of his friends had suggested that mercury could have been a cause of his death.
The Department of Clinical Physics at Glasgow University tested a lock of Robert Burns hair in 1971. The mercury level was double the normal level.
The doctors are hoping to test a sample of the handwriting of Robert Burns for signs of mercury poisoning such as shakiness. Dr Greaves will be visiting the Burns Cottage Museum in Alloway to view documents and see examples of the handwriting of Robert Burns. The curator of the Burns Cottage Museum, David Hopes, says that as the 250th anniversary of the death of Robert Burns approaches in 2009 he looks forward to a fresh perspective of the often asked question how did Robert Burns die?
Other academic and historians think that the answer to the question how did Robert Burns die is rheumatic disease from a complication of endocarditis or from the condition brucellosis.
Robert Burns Castlegate Aberdeen
In the autumn of 2007 a board was placed in the Castlegate of Aberdeen to commemorate the visit of Robert Burns to the area. Other notable and famous Scots who have visited the Castlegate included the author and diarist James Boswell and Royals such as Mary Queen of Scots and King James VI.
Father of the Bard Project
In August 2007 it was announced that a �49,000 Heritage Lottery Grant was awarded to the Father of the bard Project so that Robert Burns' father, William Burnes, could be promoted in the local area. William Burnes was born in Clochnahill near Glenbervie and the money will be used to promote the area of the Mearns.
The fund will also allow the Father of the Bard Project to research the life of Robert Burns' father and ultimately produce a DVD about his time in Aberdeenshire.
The Father of the Bard Project will also create a family map of the descendants of Robert Burns through Scotland and the world.
Both are hoped to be finished and available to the public by the year 2009 which coincides with the 250th anniversary of the death of RobertBurns and the event of Scotland's Year of the Homecoming 2009.
Karen Dunbar
Karen Dunbar
continued her love for Burns and his poetry with another television programme broadcast on BBC2 on Burns Night on the 25 January 2008 at 10pm. It was called Robert Burns World Tour of Scotland. Karen Dunbar followed the journey through the footsteps of Burns talking to Burns historians. This included Gerry Carruthers, Pauline Gray, Nigel Leask and Ted Cowan of the University of Glasgow.
Karen Dunbar travelled to areas that inspired the work of Robert Burns, particularly the bonnie Ayrshire Burns country. Though a lassie Karen Dunbar was permitted entry into the Bachelor�s Club Meeting and later interviewed Angus Middleton of the Ayrshire Association of Burns Clubs. She later went to several of the favourite drinking places of Robert Burns which included the White Hart in Edinburgh and The Globe Inn Dumfries where she met Jane Brown the owner who was dressed in period costume.
Robert Burns World Tour of Scotland with Karen Dunbar included a potted Robert Burns biography.
In the studio in front of a live audience Karen Dunbar introduced each clip, live musical performances of the songs and ballads of Robert Burns and readings from the letters of Robert Burns by the leading Scottish actor Bill Paterson. Music included Sheena Wellington singing Wha�ll mow me now? and Kenny Anderson (King Creosote) performing A Man�s A Man and Chris Thile performance of Sweet Afton Sung. Phil Cunningham was the musical director of Robert Burns World Tour of Scotland with Karen Dunbar
Other readings included the Epistle to John Lapraik.
Karen Dunbar is now working on a one woman Burns show to mark the 250th anniversary of the birth of Robert Burns for the year 2009.
Watch Robert Burns World Tour of Scotland with Karen Dunbar at the website bbc.co.uk/burns
Robert Burns Actor
A Robert Burns actor and impersonator is Christopher Tait who has given performances throughout the UK and worldwide including countries such as Russia, the USA and Germany. Christopher Tait dresses in period costume that would have been worn by Robert Burns. Photos can be viewed at his site Robert Burns Live.
Trained actor Christopher has been a Robert Burns actor since 1992 and is available for corporate events, school events and Burns Suppers. For more information visit www.robertburnslive.co.uk