Home
>
Scottish Food
>
Lorne Sausage Scottish Square Slices Sausages
Lorne Sausage Scottish Square Slices Sausages
Information about the Lorne Sausage and the history of the Scottish Square Slices Sausages. Includes how and why they were invented and first made. There is also an easy to cook recipe for square sausage
:
The History Of The Square Sausage
Tommy Lorne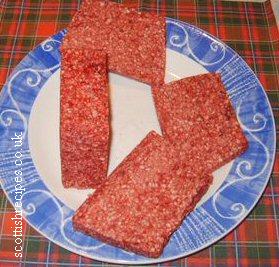 It is thought that the Lorne sausage, which also goes by the names of square sausage, sliced sausage or sausage slice, was an invention of the Scottish comedian Tommy Lorne who lived from 1890 and died in 1935. He was born in Kirkintilloch near Glasgow. His birth name was Hugh Gallagher Corcoran. Tommy Lorne performed in many Scottish theatres and often performed in Glasgow and Edinburgh and was much in demand for pantomime. In his own acts he would apply white make-up and wear a short kilt, a glengarry, boots that were far too big for him and a jacket that was short. He spoke in an hilarious high pitched voice. Tommy Lorne was famed for several catchphrases such as "In the name of the wee man" and "Ah'll get ye", and "If Ah don't get you the coos'll get ye!"
Follow us on:
Instagram
,
Twitter
and
Facebook
.
Contact Me
.
My new novel: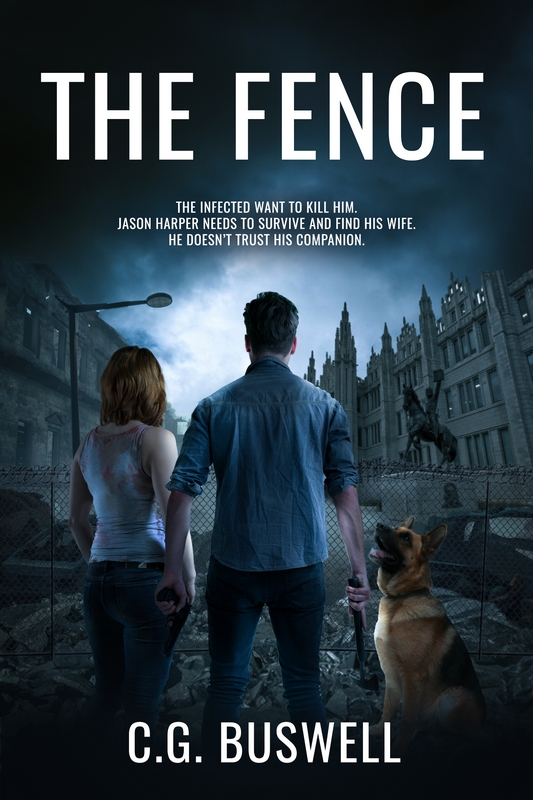 The Aberdeen skies are under attack from an enemy jet. It is spilling a strange yellow smoke. Minutes later, people start killing each other.
Former Royal Air Force Regiment Gunner Jason Harper witnesses this and then his wife, Pippa, telephones him, shouting that she needs him. They then get cut off. He sets straight out, unprepared for the nightmare that unfolds during his journey. Everyone seems to want to kill him.
Along the way, he pairs up with fellow survivor Imogen. But she enjoys killing the living dead far too much. Will she kill Jason in her blood thirst? Or will she hinder his journey through this zombie filled dystopian landscape to find his pregnant wife?
The Fence is the first in this series of post-apocalyptic military survival thrillers from the torturous mind of local horror and science fiction novel writer C.G. Buswell.
Download Now.
Buy the Paperback.
Other names for Lorne Sausage can be found in
Taste Ye Back: Great Scots and the Food That Made Them
which includes Butcher's Slice, Square Beef Sausage and Square Slice.
It is thought that Lorne sausages were named after Tommy Lorne because of another of his famous catchphrase: "sausages are the boys" - he loved his sausages! He often ate a sausage sandwich between his acts. It has even been suggested that not only were Lorne sausages named after Tommy Lorne and to give people an easy to make sausage sandwich, but that Tommy Lorne was the inventor of the Lorne sausage.
Whoever did come up with the original recipe for Lorne sausage is owed a debt of gratitude to many Scots. The shape and size is perfect to fit between two slices of bread to make the perfect sausage piece. Rene La Sagne in the book
The Complete Book of Mince
wonders if the shape of the lorne sausage is such so that it makes more efficient use of the grill and frying pan.
The book
A Cook's Tour of Scotland
by Sue Lawrence has a lorne sausage casserole recipe. There are also examples of how some Scottish people eat their Lorne sausage such as putting the Lorne sausage with an egg between a morning roll, whilst some Scots add a tattie scone.
Lorne Sausage Calories
Many people worry about the lorne sausage calories ruining their figure but actor Bill Paterson recommends only eating lorne sausages after squaring
it first with your cardiologist
in
Taste Ye Back: Great Scots and the Food That Made Them
There is a traditional Scottish Loren Sausage recipe in the Maw Broon's Cookbook which uses minced beef, minced pork, eggs, breadcrumbs, seasoning and spices such as nutmeg and coriander seed.
Buy Maw Broon's Cookbook at a discounted price and with free delivery available.
The Firth Of Lorne
A common misconception is that the Lorne sausage comes from the area of the Firth of Lorne. The Firth of Lorne can be found in the West Coast of Scotland at Argyll and Bute. This 25km large body of water lies between the Isle of Mull and the Isles of Kerrera, Seil and Luing (the Slate Islands). It is as wide as 10km in parts.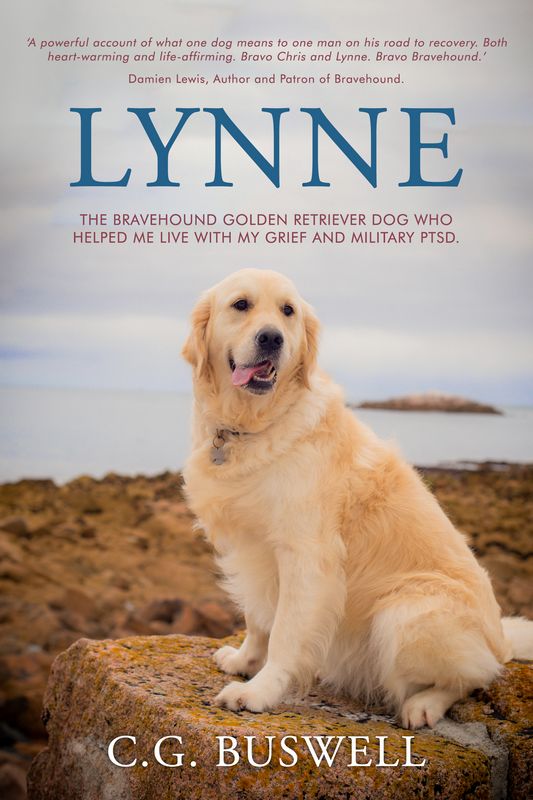 Have you seen my beautiful golden retriever Lynne out and about in Aberdeen? Ask her for a high-five! She's a Bravehound PTSD assistance dog, so we'll often be in shops, restaurants, and the cinema together.
We've written a book where I talk about growing up in Aberdeen and then joining the army to be a medic and nurse, and developing military Post Traumatic Stress Disorder.
I also talk about losing my son to suicide and the therapy I have had at Royal Cornhill Hospital and grief support groups in Aberdeen.
The author, Damien Lewis, said of Lynne:
"A powerful account of what one dog means to one man on his road to recovery. Both heart-warming and life-affirming. Bravo Chris and Lynne. Bravo Bravehound."
Download
.
Buy the paperback
.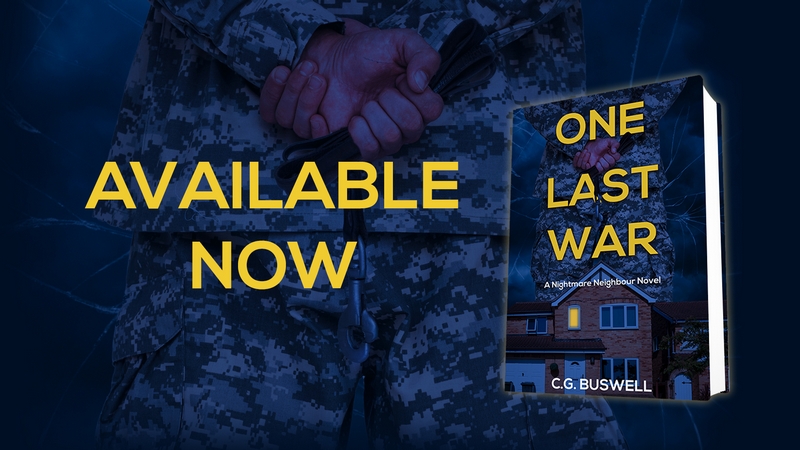 An army veteran moves his family back to his Aberdeenshire home, but his nightmare neighbour starts a battle of wits with him. Who will win this One Last War?
Buy this latest novel by local author C.G. Buswell on
Kindle
or
Paperback
.
Advertise Here from just £70.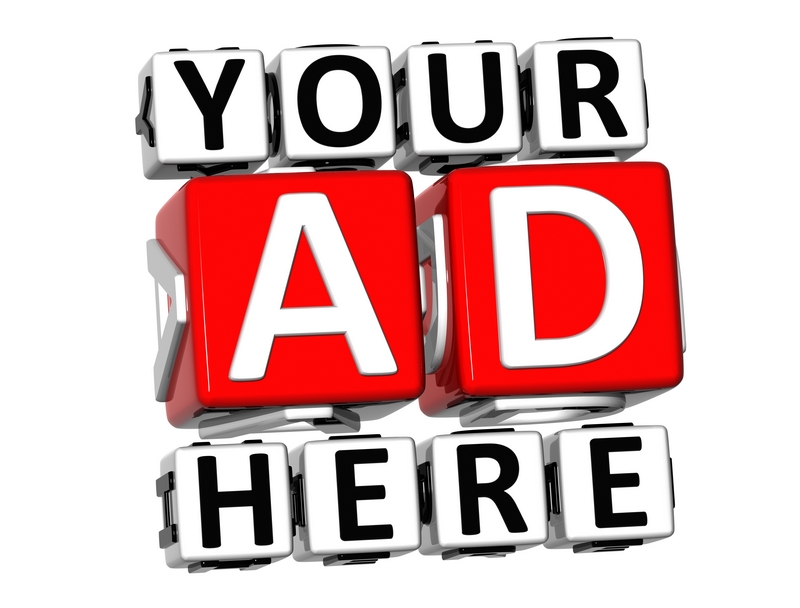 The Danger Of Lorne Sausage Blocks!
In June 2006 the actor Alex Norton, star of Taggart (DCI Matt Burke) and Pirates of the Caribbean: Dead Man's Chest (Captain Bellamy) was stopped by security guards at Glasgow Airport who mistook his kilogram of Lorne sausage for the high explosive Semtex! He was on his way to London and taking the square sausage slab to blow up the tummy of his Scottish friend who wanted a taste of Scotland for his breakfast!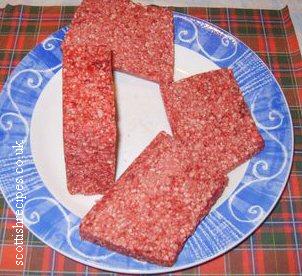 Recipe For Lorne Square Sausages
It is recommended that either or a mixture of minced beef and minced pork is used. The ideal square sausage slice should have at least a 20% fat content - great for blocking the arteries! Health conscious eaters of Lorne sausage may want to alter this percentage for their recipe! Traditional cooks would argue that the high percentage animal fats are needed to stop the square sausage becoming too dry.
The square sausage slice is bulked up in equal proportion with rusk which is traditionally stale breadcrumbs. Crushed bones have been used in some very old recipes but aren't recommended! Modern chefs will use fine bread crumbs in their recipes.
The unique taste of Lorne sausage comes from the seasoning. Many butchers and chefs have their unique recipes but common seasoning ingredients include salt and pepper with some nutmeg and coriander.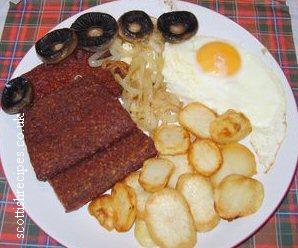 Making Square Sausages
To make the square sausage add the ingredients together into a large bowl adding a cup of water if the sausage mixture gets too dry. Form into a square and either leave as one big block or cut individual slices or smaller blocks. Most square sausage slice will be about 10mm thick and 90 mm in length. This can then be stored in the fridge or freezer. The square sausage is then defrosted and fried in oil until browned.
Lorne sausage may not be the healthiest type of food to eat - but it tastes great. It is best eaten as a sausage piece between two pieces of lightly buttered bread. It is also great at breakfast or any other time with baked beans, fried onions and mushrooms, baked beans, grilled tomatoes, fried eggs, bacon, black pudding, potato scones and hash browns. A bit of toast should help anyone still hungry after their Lorne square sausage slice breakfast!
More Scottish Recipes
.