Home
>
Ghosts of Aberdeen and Scotland
>
Haunted Places In Aberdeen
Haunted Places In Aberdeen
Tales of Scottish ghost stories such a grey or white lady in a castle, saucy maids, kittie rankie, big grey giant Ben Macdhui, army ghosts and pipers, haunted tours and walks
If you would prefer first hand experience of ghost hunting in Aberdeen or other locations in Scotland then why not
book an experience
. Locations include the many Castles of the Shire and the city Tolbooth where you will join professional finders of Scotland who will teach you to use their equipment to help you with making your own ghost sighting in Aberdeen or other spooky locations of Scotland.
Follow us on:
Instagram
,
Twitter
and
Facebook
.
Contact Me
.
My new novel: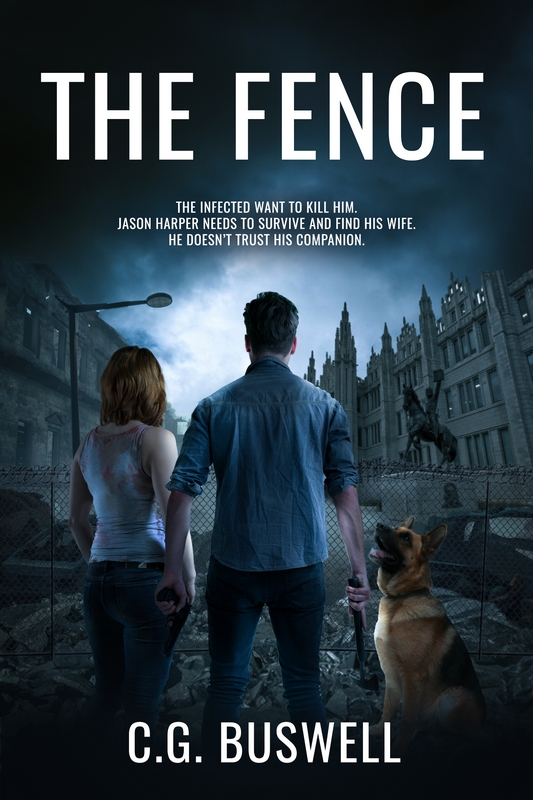 The Aberdeen skies are under attack from an enemy jet. It is spilling a strange yellow smoke. Minutes later, people start killing each other.
Former Royal Air Force Regiment Gunner Jason Harper witnesses this and then his wife, Pippa, telephones him, shouting that she needs him. They then get cut off. He sets straight out, unprepared for the nightmare that unfolds during his journey. Everyone seems to want to kill him.
Along the way, he pairs up with fellow survivor Imogen. But she enjoys killing the living dead far too much. Will she kill Jason in her blood thirst? Or will she hinder his journey through this zombie filled dystopian landscape to find his pregnant wife?
The Fence is the first in this series of post-apocalyptic military survival thrillers from the torturous mind of local horror and science fiction novel writer C.G. Buswell.
Download Now.
Buy the Paperback.
Visit the
Edinburgh Dungeons
for a truly scary but fun experience.
Click the links below to go to read about the haunted places in Aberdeen:
White lady ghost of Ardoe House Hotel
Go Ghost Hunting In The UK
Children Playing
Kinnaird Head Piper
Halloween
Captain Beaton
St Nicholas Church
Castle Fraser
Cocket Hat Pub
Colonel James Ogston
Crovie Haunted Mission Hall Church
Corgarff
Coull Church Bell
Cullen House
Deer Abbey Monk
World War Two Soldiers
Dunnottar
Fittie Witch
Fountain Hall Noises
Knock Castle Ballater
Frendraught
Four Mile Inn
Friar Monk - Carmelite Street
Haunted Room
Ghost Walks
Great Western Road
Edinburgh Dungeons
Crathes
Grey and Green Lady - Fyvie
Thainstone
HMT
Menie
Haddo House
Halloween Events
Jake
Honeymoon
Kindrochit
Big Grey Giant Ben Macdhui
Mirror Girl
Kingcausie Child
Horse and Carriage
John Leith
Kittie Rankie
Monk of Banchory
Murder Room
Phantom Piper
Pittodrie House
Ravenswood Hotel
Reverend John Mennie
Rising Coffin
Rohaise of Dalgetie
Robin of Death
Saucy Maid Outfit
Soldiers
Servant Girl
Singing Church
Templar Thunder Hole
The Party Spirit
Torry Battery
Weeping Stones of Fyvie
White Lady - Meldrum House
White Dog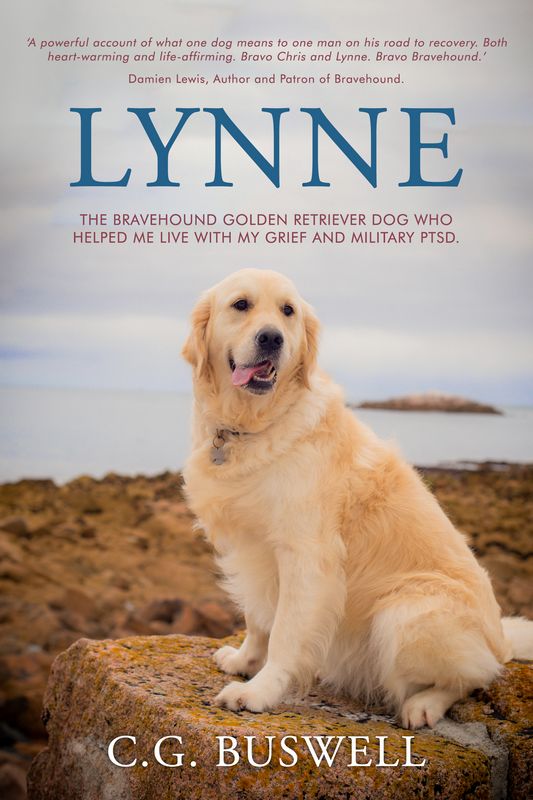 Have you seen my beautiful golden retriever Lynne out and about in Aberdeen? Ask her for a high-five! She's a Bravehound PTSD assistance dog, so we'll often be in shops, restaurants, and the cinema together.
We've written a book where I talk about growing up in Aberdeen and then joining the army to be a medic and nurse, and developing military Post Traumatic Stress Disorder.
I also talk about losing my son to suicide and the therapy I have had at Royal Cornhill Hospital and grief support groups in Aberdeen.
The author, Damien Lewis, said of Lynne:
"A powerful account of what one dog means to one man on his road to recovery. Both heart-warming and life-affirming. Bravo Chris and Lynne. Bravo Bravehound."
Download
.
Buy the paperback
.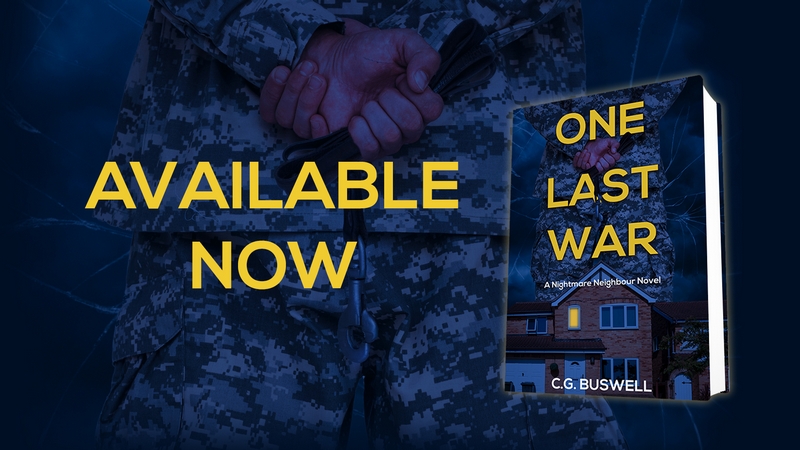 An army veteran moves his family back to his Aberdeenshire home, but his nightmare neighbour starts a battle of wits with him. Who will win this One Last War?
Buy this latest novel by local author C.G. Buswell on
Kindle
or
Paperback
.
Advertise Here from just £90.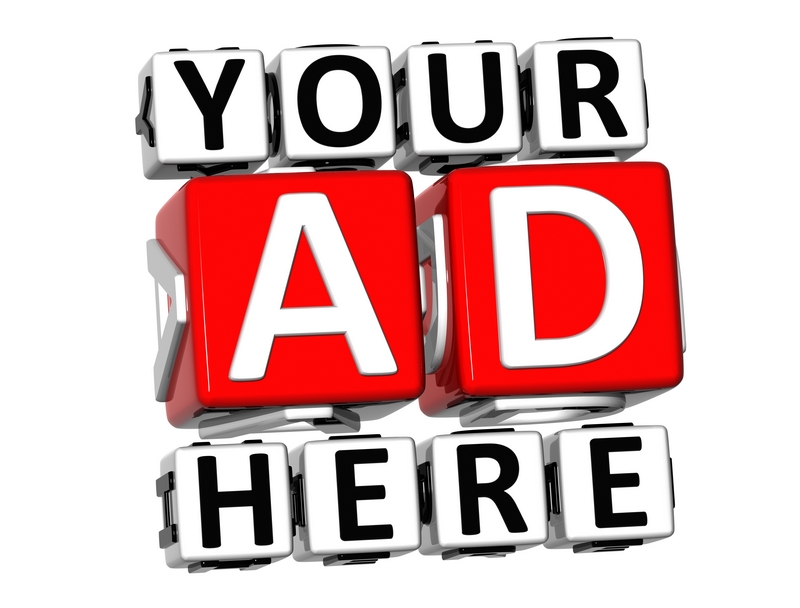 Scottish Ghosts
Edinburgh Dungeons
Horse
Edinburgh Castle
Duntulm
Margaret - Dunrobin
Dunvegan
Glamis
St Andrews
Globe Inn Barmaid
Jedburgh Jail Museum
Melrose Abbey Vampire Monk
Edinburgh
Headless Soldier - Eilean Donan
Thomas Weir - Wizard of West Bow
Tay Bridge Disaster Train
Baldoon Bride
Dalmarnock Bridge Suicide
Dryburgh Abbey Monk
Wanlockhead Hills
Culloden
Ethie Child
Eden Court Theatre Inverness
Soldier Rider at Buckie
Glencoe
Inverary
Bonnie Prince Charlie
Sandwood Bay
Skaill House Orkney
Brodick Library
Edzell White Lady
Comlongon
Last Drop Tavern Edinburgh Girl
Knock Castle Isle of Skye Green Lady
Aberdeen Ghost
The Haunted North: Paranormal Tales from Aberdeen and the North East
describes the ghosts of Aberdeen and the Shire. This includes many sightings and hauntings by spirits that we did not know about which are written about in greater detail on the links further below.
For example the Moorings Bar in Trinity Quay, is a haunted bar with quite an atmosphere. A spirit there is said to turn off taps in the taproom of the cellar. Objects have moved in the bar after closing time. This includes, mops, chairs and a knife. Staff have told the author of doors being pushed against though no-one is there and being shoved at the toilets. They have also felt watched by an unseen spirit. This is thought to be Ted who was a former Canadian Airman who worked at the Moorings Bar. He has been seen in the cellar as if still working with kegs of beer.
Graeme Milne also thinks there may be another at the Moorings Bar which is responsible for the more sinister occurrences. Its activities started after a 1970s price list was removed from a wall in the cellar. The owner of The Moorings Bar, Craig Adams, set up some electronic voice phenomena (EVP) recording equipment. After listening to hours of white noise he heard a voice say "Put the price list back". This was also heard by a barman called Frank who also reported seeing the sudden appearance of smoke or steam that quickly disappears. Later recordings in the bar recorded the words "Get out".
Another spooky event is that of a regular who went missing. One day her photo appeared to flutter down from the ceiling after closing time in front of the publican. The author investigated and found that she had died in hospital. Neither men could explain where the photograph had come from.
Others written about include Castle Street on the site of public executions using the Maiden, ghostly figures, poltergeist and other strange phenomena.
Aberdeenshire ghosts include footsteps at a Victorian wash house at the Dunecht Estate and a monk figure at Crathie. Morrone Lodge near Braemar in Royal Deeside is thought to be haunted . The haunting manifest as a figure standing at the foot of a bed and has been heard moving in a bunk above sleeping guests. Dogs are said to be unsettled in Morrone Lodge.
Ghost Sightings
Other ghost sightings described is that thought to be a hillwalker who died on the doorstep of the Gelder Bothy on the Balmoral Estate one winter. Groaning noises inside the bothy and scraping noises and banging outside have been heard in the middle of the night by parties of walkers and climbers who shelter in the Gelder Bothy.
Another is at the former coaching inn Ma Cameron's Inn which was formerly called the Sow Croft Inn. Ma Cameron was Amelia, wife to owner John Cameron. It is now located in what is today Belmont Street. It manifests itself as strange noises most recently heard by a decorator working in the late hours of the night who heard tapping noises and replied with his paint brush and had the exact number of knocks tapped back.
A dark figure has been sighted moving between the snug and toilets. This would originally have been the stables and wholesale store. Staff have reported that it switches on and off lights and whilst in the tap room there is the feeling of being watched with the presence of someone directly behind.
Beer taps in the bar have been seen by a customer to turn itself on as if a drink was poured.
The Commerce Street one manifests itself as an evil spirit in the flats which has been felt by many people and Graeme Milne narrates their stories in his book. The history of this area sees its use as a witch burning area and again of public execution. There was a murder in Commerce Street in the 1960s. Modern paranormal activity includes sudden drops in temperature and hearing Latin being chanted which the author explains could be the recital of prayers at an execution by a priest. An Apport has manifested several times where a spirit has tried to communicate with the living by making a pattern with carpet kirby grips and spreading cigarettes out of a packet onto the floor when only one person has been in the flat.
Though not all hauntings are said to be menacing or evil. Such is the case of the one described at Constitution Street which is said to be Priest Charles Gordon who is thought to have come back to his favourite room and armchair to enjoy smoking his pipe.
That said some hauntings written about has caused alarm and fear amongst those who witness them. This is the case with Kaimhill School haunting where cleaners do not like to be alone in certain parts of the primary school because of disturbing incidents such as seeing a mysterious figure wearing a black face veil and feeling chilled and eerie at this grey lady figure.
Those who have seen the North Silver Street phantom that stands leering at the bottom of beds will agree that sightings can be alarming and cause fear.
Not all are thought to be of human origin. For example the Boddam haunting at a former Fisherman's cottage at Earls Court left huge paw prints and made terrifying animal noises.
Another haunted location seems to involve the spirit of a child at Hazlehead Academy drama department, specifically the stage area. Staff and pupils have a depressing feeling and one of pervading gloom that suddenly occurs. Knocks on walls have been heard and the chains of the heavy stage curtain have been heard to rattle. Cold spots have been felt and some pupils have reported feeling touched as if by the hand of a child. Several witnesses have reported seeing a boy dressed in 1960s clothing watching rehearsals. Blue balls of light have been seen and voices heard though no-one can be found. He gives several theories on the causes of these Hazlehead Academy hauntings and paranormal activities.
The site of the old Castlehill Barracks was the scene of a disturbing tale of a ghost nurse who attended to a sick child staying in the building that was being used as flats. When the mother went to thank the nurses at the nurses' home they did not know that they had been asked to attend too the sick child. The nurse had been dressed as if in World War One nursing uniform and his research revealed that the building had been used as a military hospital and the room the girl had been in was the mortuary.
Powis House in
Old Aberdeen
is a former Mansion that is now used as a Community Centre. Children playing outside have reported seeing a room fill with blue light and the figure of a lady with black hair look through the window. A phantom nicknamed Annie is said to haunt the basement. Some staff at Powis Community Centre have reported seeing a young girl, thought to be a child who died from scarlet fever.
Another haunted community centre is said to be at Rosemount where lights go on and off on their own, furniture moves overnight and paperwork disappears and reappears later. Staff have a feeling of being watched and a figure in a red cape has been seen in a corridor and disappear into the toilet area. It is thought that this could be a Red Cross Nurse since the building was used as a World War One hospital with the area being the old morgue.