Home
>
Famous Aberdonians
>
Amanda-Jane Taylor
Amanda-Jane Taylor
Biography
Miss Commonwealth Scotland
Now deemed Scotland's most successful International beauty queen, Aberdonian Amanda-Jane Taylor is the reigning Miss Commonwealth Scotland for the 2nd year running. Her outstanding success in the beauty queen field has seen her travel the world meeting heads of state and dignitaries as well as many celebrities, participating in official charity and social events and helping to promote national cultures, tourism, world peace, and global attention to humanitarian and environmental causes and work.
Amanda-Jane Taylor is now Miss Commonwealth Charity International 2006
Follow us on:
Instagram
,
Twitter
and
Facebook
.
Contact Me
.
My new novel: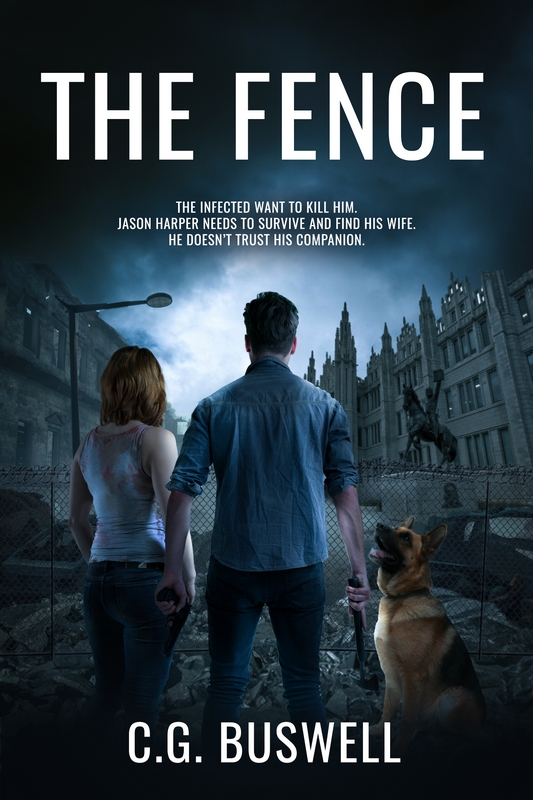 The Aberdeen skies are under attack from an enemy jet. It is spilling a strange yellow smoke. Minutes later, people start killing each other.
Former Royal Air Force Regiment Gunner Jason Harper witnesses this and then his wife, Pippa, telephones him, shouting that she needs him. They then get cut off. He sets straight out, unprepared for the nightmare that unfolds during his journey. Everyone seems to want to kill him.
Along the way, he pairs up with fellow survivor Imogen. But she enjoys killing the living dead far too much. Will she kill Jason in her blood thirst? Or will she hinder his journey through this zombie filled dystopian landscape to find his pregnant wife?
The Fence is the first in this series of post-apocalyptic military survival thrillers from the torturous mind of local horror and science fiction novel writer C.G. Buswell.
Download Now.
Buy the Paperback.
Ambassador For Aberdeen City And Shire
The Lord Provost of Aberdeen, John Reynolds, and Lord Provost of Aberdeenshire, Raymond Bisset, have invited Amanda-Jane to become an Ambassador for the City and Shire. Because of her success and outstanding contribution to the area she has been asked to help promote the area in her capacity as Miss Commonwealth Scotland. This is quite an honour and one Amanda-Jane has been delighted to accept.
Miss Aberdeen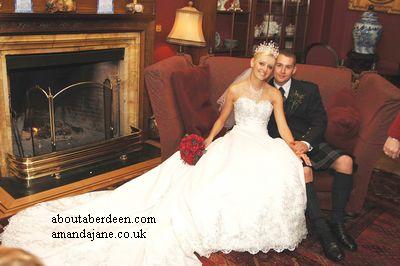 Amanda-Jane was also crowned Miss Aberdeen in 2004 at the Miss Great Britain finals and then went on to reach the final 12 and only girl from Scotland in Miss Commonwealth UK. In November 2004 she subsequently went to compete against 54 countries worldwide in Miss Commonwealth International where she was crowned Miss Commonwealth Scotland AND won 1st runner up place, the highest accolade of any beauty queen from Aberdeen.
Charity Work Of Aberdeen Model Amanda Jane Taylor
Amanda has continued her charity work here in Aberdeen and throughout Scotland for charities such as The Scottish Huntington's Association, ChildLine, Meningitis UK, The Cyrenians for the Homeless, Cancer Research UK, CLAN, The Anthony Nolan Trust, Brain Injury Group, Cash for Kids, The Tsunami Appeal, The John Fashanu Trust, When you wish upon a Star, Children 1st, Macmillan Cancer Relief and The Variety Club to date. Only recently has she pledged support for CHAS Rachel House, Scotland's first hospice for very sick children, as well as UCAN, the P&J's charity for Urological cancers. Helping raise vast amounts of funding for these charities ; in the first year as Miss Commonwealth Scotland she has helped raise nearly three quarters of a million pounds.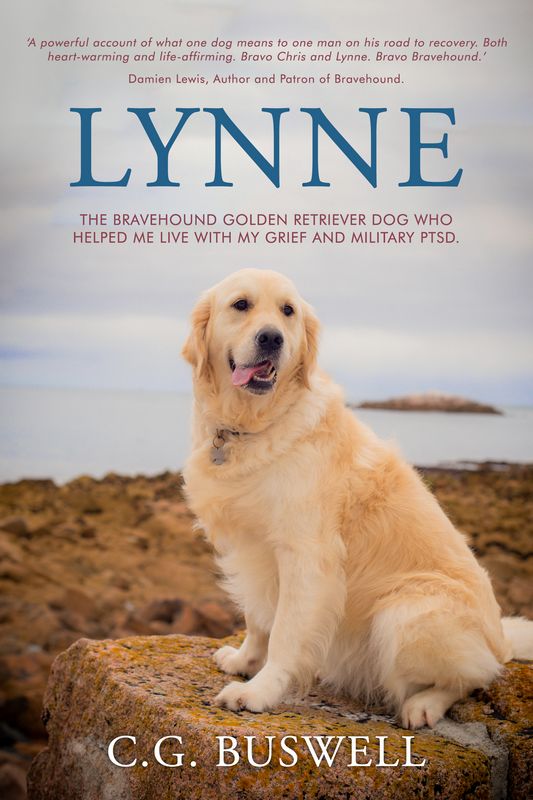 Have you seen my beautiful golden retriever Lynne out and about in Aberdeen? Ask her for a high-five! She's a Bravehound PTSD assistance dog, so we'll often be in shops, restaurants, and the cinema together.
We've written a book where I talk about growing up in Aberdeen and then joining the army to be a medic and nurse, and developing military Post Traumatic Stress Disorder.
I also talk about losing my son to suicide and the therapy I have had at Royal Cornhill Hospital and grief support groups in Aberdeen.
The author, Damien Lewis, said of Lynne:
"A powerful account of what one dog means to one man on his road to recovery. Both heart-warming and life-affirming. Bravo Chris and Lynne. Bravo Bravehound."
Download
.
Buy the paperback
.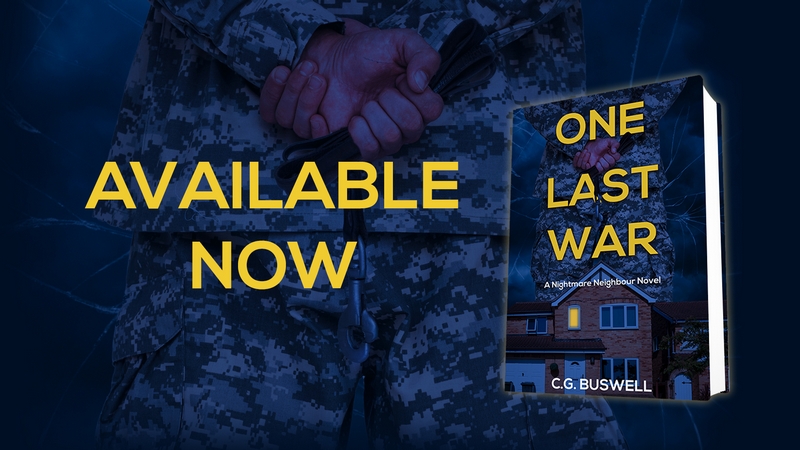 An army veteran moves his family back to his Aberdeenshire home, but his nightmare neighbour starts a battle of wits with him. Who will win this One Last War?
Buy this latest novel by local author C.G. Buswell on
Kindle
or
Paperback
.
Advertise Here from just £70.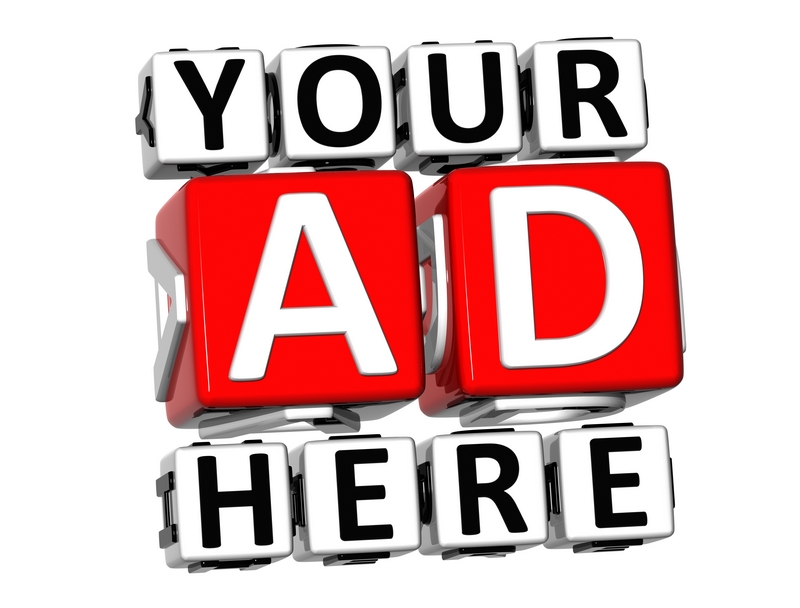 Modelling And Singing Career Of Aberdeen Model Amanda Jane Taylor
Now deemed one of the most successful beauty queens in Scotland and with another year to reign as Miss Commonwealth Scotland, the work is flooding in. Never one to put her feet up Amanda-Jane volunteers for as much charity work as possible in her spare time, doing guest appearances, modeling, singing, dancing, balloon launches, charity auctions, TV ads, interviews, magazine work - all whilst working as a Dental Hygienist. To date she has appeared in no less than 250 press articles.
With a successful career in modeling and singing, signed to 7 model agencies throughout the country, she currently features in a TV advertisement throughout Scotland for a furniture company, and its success has seen the company ask her to return to do more.
In 2004 Amanda-Jane was chosen as Mattel's face of Barbie, has been taken on as The Face of La'Orr Boutique, a designer wedding company, and most recently has been chosen as The Face of Thistle & Broom, an expanding Scottish Company who also has Darius Danesh, brother Aria and well known harpist and singer Katie Targett-Adams modeling their clothing all over the world.
Singing Success
Not only is Amanda-Jane successful in the beauty field but her prowess for singing too is becoming known throughout the country.
In 2004 Amanda-Jane also won two singing categories in the UK's biggest talent competition for all ages, The Variety Club's
Festival4Stars
and went on to sing in the finals. She then linked up with Compuphonic, local producers who are working on her own music and her music is being played in nightclubs in Aberdeen.
In 2005 she sang to huge crowds at The Emmerdale Extravaganza in June and Brain Injury Group BIG, and sang at Night of the Stars in Bathgate where she was directly taken on by a big entertainment agency in Glasgow.
Miss Commonwealth International at London Palladium
In April 2006 she again went on to take the regional final prize at the UK's biggest talent competition Festival4Stars in the over 15's solo singing category. Amanda-Jane has now been asked to sing at London Palladium in July where she will be crowned Miss Commonwealth Scotland for the 2nd year running at the televised star studded Miss Commonwealth International.
Past beauty queen successes are immense and include Miss Aberdeen, Miss Photographic North, Miss Earth Scotland, Model of the World Scotland, Miss Tourism World Scotland, Miss Intercontinental Scotland, runner up in Miss Scotland 1999, final 6 of Face of 2000, final 10 in Miss Scotia and Search for a Model, Girl Next Door, Miss Commonwealth UK, Miss Great Britain and Miss British Isles.
Her International Beauty Queen success sees many more exciting offers coming her way and news of these are constantly updated on her website.
Amanda-Jane modelled the Emmerdale wedding dress on 17 May before it was auctioned on the 3 June.
More Information
.
Amanda-Jane is the model for Lifewave Patches because of her hard work schedule -
read about these revolutionary new energy patches
.
There are some photos of Amanda-Jane modelling wedding dressed by La'orr Boutique, Aberdeenshire on the
Scottish Wedding Traditions
page.
Aberdeen Bride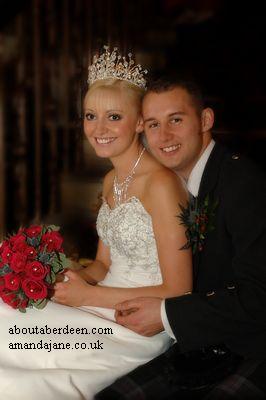 On Sunday the 1 October 2006 Amanda-Jane Taylor got to finally wear her own wedding dress when she married Mark Slatter at Chapel of Garioch Parish Church.
A modest wedding had been planned, but the event turned into a huge fairytale wedding which the International beauty queen could have only dreamed of.
Thanks to Linda Carrol of Dedicated 2 Weddings and wedding organiser Sherida Bain of 20five8, many local community businesses came together to provide surprises of all sizes as way of a thank you to Amanda-Jane for all the charity work she has provided tirelessly for the area.
From fantastic fireworks, a huge balloon exploding confetti, Scottish dancers, well known soprano singer Lisa Moffat, guitar player, piper, ceilidh and disco the whole event wowed the guests and bride and groom alike.
Amanda-Jane's stunning dress with cathedral train emblazed with diamantes and embroidery set the stage. A huge tiara made for the special occasion by a world famous designer was festooned in Swarovski crystals.
Flowers adorned the church and hotel with the theme of sliver, pink and tartan turning the stunning setting of Pittodrie House Hotel into an event befitting of any celebrity magazine. Local businesses provided so many gifts and surprises that the Aberdeen born beauty queen really was a princess for the day.
With special messages from many including Sir Alex Ferguson and the Lord and Lady Provost John and Helen Reynolds the event was attended by many guests from major charitable concerns including CLAN, Children 1st and the Scottish Huntington's Association. Amanda-Jane wanted to include as many guests who have involved her in her role as Miss Commonwealth Scotland. Media guests from the press and PR companies alike danced into the wee small hours.
"I am so happy that so many were keen to make our wedding something so special. It was an amazing day and I cannot thank people enough."
added Amanda-Jane.
"Rest assured nothing will be wasted. The wonderful flowers will be delivered to charities I am concerned with including CLAN and Sue Ryder Centre and one of the cake tiers will be heading off to Roxburgh House."
Face of La'Orr Boutique
As Miss Commonwealth Scotland, Amanda-Jane was approached by bespoke wedding company La'Orr Boutique of Nethermuir, Maud to promote the company as The Face of La'Orr Boutique. Lisa Orr of the company designed and made the stunning purple silk with long tartan train dress worn by Amanda-Jane at Miss Commonwealth International 2006. Amanda-Jane has guest modelled many wedding dresses for the company including the wedding dress worn by Donna Windsor in Emmerdale. The dress was auctioned for UCAN at The Emmerdale Extravaganza. La'Orr Boutique also supplied the fabulous wedding dress and bridesmaids dresses for Miss Commonwealth Scotland's own wedding this year.
Face of Thistle & Broom
Earlier in 2006 Miss Commonwealth Scotland was taken on by Thistle & Broom as their new face. The Scottish Couture Company already boasts Darius Danesh as one of their models. The Company shot to fame at New York Tartan Days Dressed to Kilt with the now famous Saltire Gown which Amanda-Jane was privileged to wear in the National Costumes category of Miss Commonwealth International 2006 where she was crowned Miss Commonwealth Scotland for the 2nd year and Miss Commonwealth Charity International 2006 overall.
Television Advertisements
Amanda-Jane has appeared throughout Scotland in many advertisements on the television and in magazines and newspapers for large furniture store James Barclays of Perth. The company were so happy with her standard of work that they invited her back again to film more television advertisements for 2006.
In July 2007 Amanda Jane Taylor filmed a TV advert for
Cinnamon Restaurant Aberdeen
and found time from her busy schedule to hand out the prizes at Northsound Cash for Kids big golf event.
The Sunday Post newspaper ran an article about Amanda Jane Taylor receiving the highest accolades of the International beauty queen world that of Miss Commonwealth Eternal.
Northsound Radio Outstanding Contribution to the Community Award
On the 23 June 2007 Amanda Jane Taylor won the Northsound Radio Outstanding Contribution to the Community Award. She was chosen as the winner for the Petrofac sponsored award because of her charity work throughout Aberdeen and Aberdeenshire.
Amanda Jane Taylor knew she had been short listed for the prize and had been filmed the week before by a film crew that came to her home. This short movie included a clip of her looking through her scrap books of press cuttings, magazine articles and photographs.
Despite an illness throughout her pregnancy Amanda bravely attended the red carpet event with her husband, Mark Slatter. They enjoyed champagne (soft drinks for Amanda and her baby!) and canapés prior to a lavish meal before the 2007 North Sound Radio award ceremony that was sponsored by George Wimpey Homes.
The Outstanding Contribution to the Community Award category was announced first and they started by playing the film of Amanda Jane Taylor. This was the only film to be shown in that category and Amanda and Mark soon realised that they were sitting at the winners table. The Northsound radio DJs knew of her win and had kept this secret as a surprise for Amanda who had to make a spontaneous thank you speech which included words of thanks and saying what a great way it was to step down from her Miss Commonwealth Scotland and Miss Commonwealth Charity International duties. The event and Amanda's speech can be heard on the Northsound radio website soon and a clip of the Northsound Radio Outstanding Contribution to the Community Award will be made available to view on the internet by an Aberdeen press agency.
Miss Commonwealth Eternal
In recognition of the charitable work Amanda Jane Taylor has tirelessly and selflessly performed over the last ten years she will be awarded the title of Miss Commonwealth Eternal in 2007. This will be at the Miss Commonwealth International awards in November 2007.
Aberdeen beauty Amanda Jane Taylor is now enjoying a new chapter in her life with husband Mark Slatter and their baby son Lewis Alexander Slater who was born in September 2007.
Read more about and see photos of Amanda-Jane Taylor and the
Miss Commonwealth Charity International
title.
To read more about Amanda-Jane Taylor and to view pictures and photographs visit her website at
www.amandajane.co.uk/
More Aberdeen Beauties
.