Home
>
Shopping in Aberdeen Scotland
>
Aberdeen Monopoly Game
Aberdeen Monopoly Game
Review and details of the Aberdeen edition of the monopoly board game with the landmarks and streets used and where to buy the Aberdeen monopoly games
:
Parker Brothers and Hasbro, the manufacturers of Monopoly, have made an official Aberdeen edition of the popular Monopoly property trading board game. It is licensed to Winning Games to make, they are the company behind Top Trumps card games. This limited edition version of the authorised Opoly game is reviewed on this page:
Buy the Aberdeen Monopoly Board Game.
Buy The Older Version.
Aberdeen Monopoly includes 32 places in Aberdeen including streets and roads such as Union Street and Aberdeenshire landmarks such as the home of Aberdeen Football Club, Pittodrie Stadium. The box is attractively decorated with historical buildings, the stunning architecture, landmarks and scenes from Aberdeen City and Aberdeenshire such as Marischal College back lit at night, photos of Old Aberdeen, Pittodrie, the Grampian Eye, Sir William Wallace statue, the Bridge of Dee and the Aberdeen Exhibition and Conference Centre. Aberdeen events in the cover picture include boating at the Duthie Park, Highland Dancing and re-enactments of jousting at the Castles. This is further described below in the playing Aberdeen monopoly section.
Where To Buy Aberdeen Monopoly Games
The online shop
Amazon
sell the Aberdeen Monopoly Game at a discounted price with free delivery.
Click To Buy Now.
Follow us on:
Instagram
,
Twitter
and
Facebook
.
Contact Me
.
My new novel: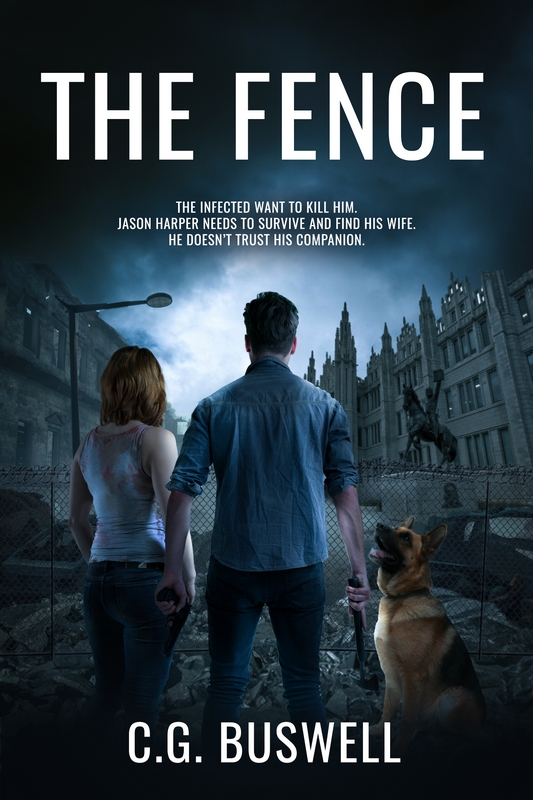 The Aberdeen skies are under attack from an enemy jet. It is spilling a strange yellow smoke. Minutes later, people start killing each other.
Former Royal Air Force Regiment Gunner Jason Harper witnesses this and then his wife, Pippa, telephones him, shouting that she needs him. They then get cut off. He sets straight out, unprepared for the nightmare that unfolds during his journey. Everyone seems to want to kill him.
Along the way, he pairs up with fellow survivor Imogen. But she enjoys killing the living dead far too much. Will she kill Jason in her blood thirst? Or will she hinder his journey through this zombie filled dystopian landscape to find his pregnant wife?
The Fence is the first in this series of post-apocalyptic military survival thrillers from the torturous mind of local horror and science fiction novel writer C.G. Buswell.
Download Now.
Buy the Paperback.
Contents of Aberdeen Monopoly
Aberdeen Monopoly Gameboard


10 Playing Tokens (listed further below)


2 Dice


32 Red Houses


12 Green Hotels


1 Property Pouch


28 Title Deed Cards (listed below)


16 Chance Cards


16 Community Chest Cards


1 Pack of Monopoly Money


1 Money Box


1 Removable Money Tray for the Banker


Playing Instructions


Aberdeen Monopoly Board Property Names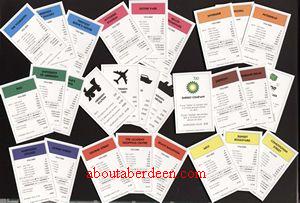 Each property card has the mortgaged value on the back and the front has the title deed contents and rent value from 1 house through to 4 houses and then with a hotel, the cost of houses and the cost of the rent with a hotel.
The square of each property has a beautiful illustration, picture, logo, emblem or photo of each Aberdeen building, company, public amenity, transport, park or street.
Brown Properties
Old Kent Road - Greenbank Road Biffa Waste Services Greenbank Road, Tullos www.biffa.co.uk
Whitechapel Road - Shiprow
Blue Properties
The Angel Islington - Provost Skene's House
Euston Road - Aberdeen Art Gallery
Pentonville Road - The Tolbooth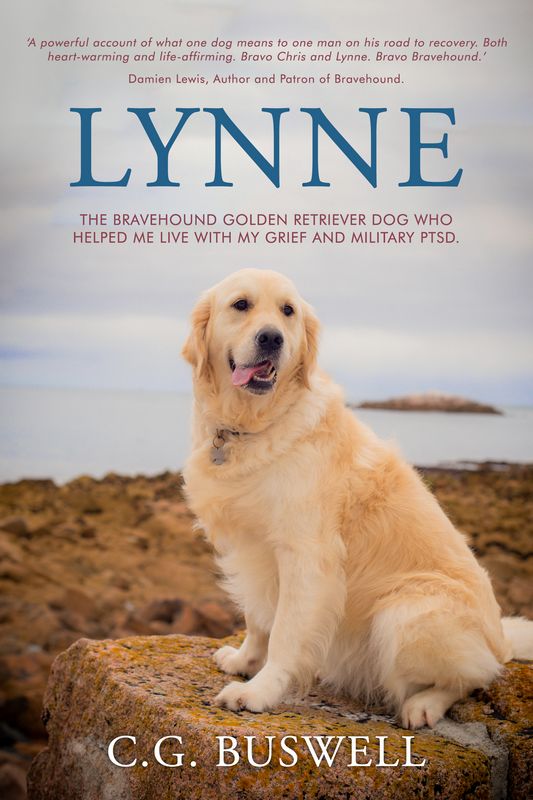 Have you seen my beautiful golden retriever Lynne out and about in Aberdeen? Ask her for a high-five! She's a Bravehound PTSD assistance dog, so we'll often be in shops, restaurants, and the cinema together.
We've written a book where I talk about growing up in Aberdeen and then joining the army to be a medic and nurse, and developing military Post Traumatic Stress Disorder.
I also talk about losing my son to suicide and the therapy I have had at Royal Cornhill Hospital and grief support groups in Aberdeen.
The author, Damien Lewis, said of Lynne:
"A powerful account of what one dog means to one man on his road to recovery. Both heart-warming and life-affirming. Bravo Chris and Lynne. Bravo Bravehound."
Download
.
Buy the paperback
.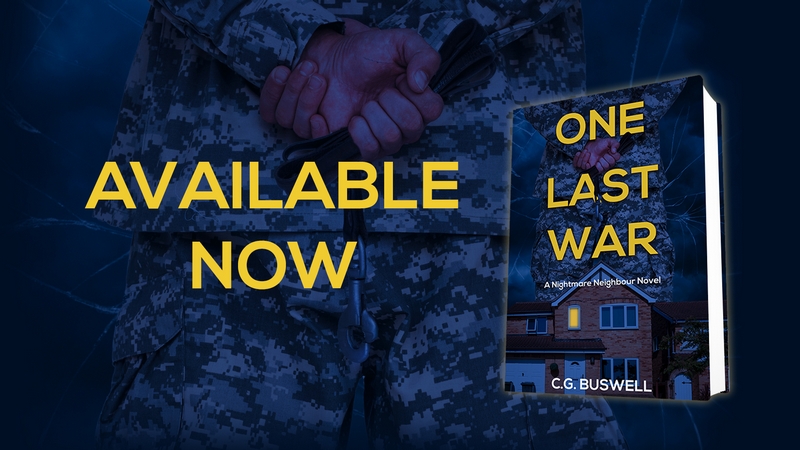 An army veteran moves his family back to his Aberdeenshire home, but his nightmare neighbour starts a battle of wits with him. Who will win this One Last War?
Buy this latest novel by local author C.G. Buswell on
Kindle
or
Paperback
.
Advertise Here from just £90.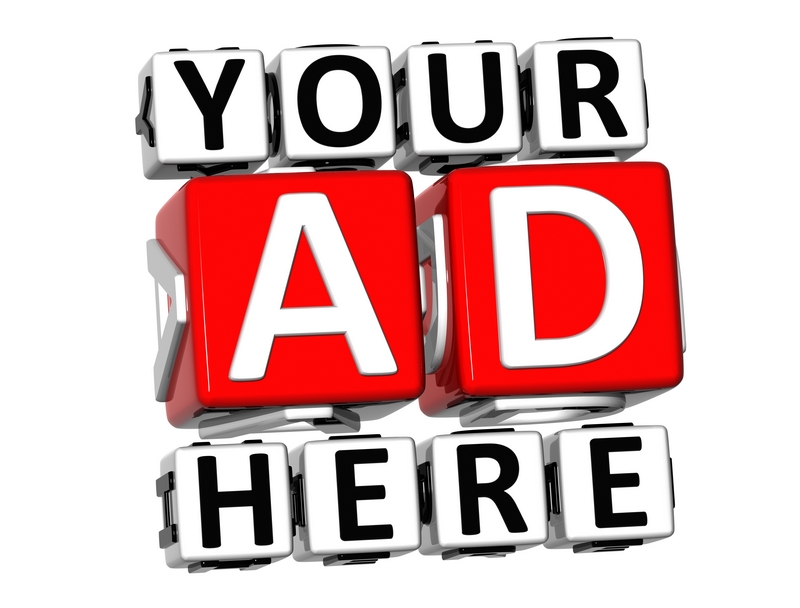 Pink Properties
Pall Mall - Beach Promenade, Linx Ice Arena and Beach Leisure Centre
Whitehall - Duthie Park Bandstand
Northumberland Avenue - Aberdeen Football Club (AFC) Pittodrie Stadium
Orange Properties
Bow Street - Schoolhill Toy Bazaar Toymaster
Marleborough Street - Strachans Inverurie Shop Toys Books, Cards, Stationery, News
Vine Street - Peterhead Donalds Store
Red Properties
Strand - Beach Ballroom
Fleet Street - The Academy Shopping Centre Experience It
Trafalgar Square - George Street Bon Accord St Nicholas Shopping Centres
Yellow Properties
Leicester Square - Constituition Street The Satrosphere science centre
Coventry Street - Sunset Boulevard Codonas Amusement Park
Piccadilly - AECC
Green Properties
Regent Street - St Machar's Cathedral
Oxford Street - University of Aberdeen www.abdn.ac.uk
Bond Street - Robert Gordon University
Purple Properties
Park Lane- Union Street
Mayfair - Marischal College
Utilities
Income Tax Pay Electric Company- Energy Company BP
Water Works - Housebuilder Stewart Milne Homes www.stewartmilne.com
Super Tax - Bank Deposit
Railway Stations
Kings Cross Station - Aberdeen Harbour
Marylebone Station - River Dee
Fenchurch St Station - Aberdeen Airport Aeroplane
Liverpool Street Station - Aberdeen Train Station
Free Parking
Go To Jail
In Jail
Just Visiting
Community Chest Cards
There are 16 community chest cards in Aberdeen monopoly with tasks such as "Pay Hospital", "Win a family day out at Codona's Amusement Park", "Win a year's supply of energy from BP, "You have won second prize in a beauty contest", "Income Tax refund, "Bank pays you dividend", "Advance to go", "Doctor's fee", "It is your birthday collect from each player", "Pay a fine or take a chance", "Receive interest on 7% preference shares", "Congratulations you have won a RGU sport scholarship receive", "Pay your insurance premium" and "The AECC lets you hold a free event".
The squares of the community chest cards on the Aberdeen monopoly board game are occupied by The Evening Express newspaper and The Press and Journal morning newspaper.
Chance
There are 16 chance cards in Aberdeen monopoly with tasks such as "Advance to George Street. If you pass go", "Get out of jail free. This card may be kept until needed or sold", "Speeding Fine", "You have won a crossword competition", "Go to jail, move directly to jail, do not pass go, do not collect", "Your building loan matures receive", "Go back three spaces" "Pay school fees", "Drunk in charge fine", "Bank pays you dividend", "Advance to go" and "You are assessed for street repairs".
The media theme continues with these cards. The squares of the chance cards on the Aberdeen monopoly board game are occupied by The Independent paper,, Northsound Radio Station 1 and Northsound2 and the last square is owned by STV television.
Click To Buy Now.
Aberdeen Monopoly Board Pieces
Replacing or staying the same as the tradition monopoly pieces of an iron, West Highland Terrier westie dog, racing car, top hat, boot, thimble, battleship, (deluxe monopoly editions also have a horse and rider, train, wheelbarrow, sack of money and a cannon) are:
Plough


West Highland Terrier Dog


Racing Car


Top Hat


Thimble


Battleship


Horse and Rider


Iron


Wheelbarrow


Boat


The traditional pieces are made from silver coloured metal, the Aberdeen version is made from the same material. It had been hoped that the Aberdeen limited edition Monopoly board game would have pieces made from Granite. Sadly this did not happen, perhaps a deluxe edition may incorporate this.
Click To Buy Now.
Aberdeen Monopoly Money
The traditional dollar bill notes of 1, 5, 10, 20, 50, 100 and 500.
Information About Aberdeen Monopoly
Nominations for the highest property square, which on a traditional Monopoly board is Mayfair valued at ?400, included St Machar Cathedral, The Duthie Park, Marischal College, The AECC, Pittodrie Stadium, Union Street, The Art Gallery, The Bon Accord Centre and the City Council Town House. This much coveted prestigious square went to .
In their bid to get the Granite City version of Monopoly, Aberdeen beat off stiff competition from other Scottish cities such as Dundee, Inverness and Perth. The Aberdeen Monopoly game was released on Friday 20 October 2006. Local Councillor leader Kate Dean launched the Aberdeen Monopoly Game at the Beach Ballroom at 12 noon on Friday, October 20. WH Smith in Aberdeen Bon Accord Shopping Centre stocked an initial 650 Aberdeen Monopoly board games and anticipate this being the best selling board game in Aberdeen this Christmas.
Click To Buy Now.
Aberdeen City is nicknamed The Granite City and the board game pieces such as the top hat, dog and racing car are hoped to be made from granite rather than metal. It is also hoped to includes an oil rig and the Codona's Grampian Eye.
Rather than having a jail and players being told to go straight to jail and not to pass go players were going to be told to Go To Inverness or Dundee! Dundonians, proud of their City of Discovery, objected and the idea was dropped.
Another unpopular decision prior to the final version of the Aberdeen monopoly board game was to have the much loved Duthie Park as the cheapest property on the board which is traditionally home to the Old Kent Road. This is now Greenbank Road of the Industrial Estate in Altens.
Aberdonians were asked to vote for the top spot of Mayfair and nominations were received for Pittodrie Stadium, Aberdeen Art Gallery, the Duthie Park, Provost Skene's House, the Beach Ballroom and the Tolbooth. Marischal College won with Pittodrie coming a close second.
The designer of the Aberdeen monopoly board game was Mark Marriot.
Click To Buy Now.
Play Aberdeen Monopoly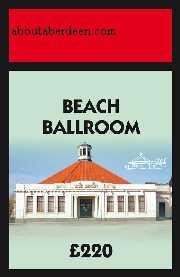 Aberdeen Monopoly is a board game for 2-8 players aged over eight years. The box is much smaller than traditional monopoly boards and measures 40cm in length by 27cm breadth so fits better into cupboards and drawers.
The monopoly playing board no longer folds into half but into quarters and measures 51cm square.
The centre of the Aberdeen monopoly playing board has a black background image of the famous landmarks of Aberdeen City and Old Aberdeen such as Girdleness Lighthouse, the Music Hall, Aberdeen Harbour and the Castlegate.
The object of the game is to buy, rent or sell local Aberdeen streets, shops and property to increase your wealth and to try and make your opponent players bankrupt.
Each player starts at the Go square, takes turn to throw the two dice and make their way around the Monopoly board, obeying the instructions on the Community Chest and Chance cards. You should avoid being sent to jail though landing on the just visiting square is harmless.
The full official rules of Monopoly are included in the Aberdeen edition. This includes the rules for the short game of Aberdeen Monopoly.
Scottish Monopoly Games
Other cities in Scotland to have their own editions of monopoly are Edinburgh and Glasgow.
More Aberdonian Games
.
History Of Monopoly
Monopoly remains the worlds best selling family board game. The game is for 2 - 8 players from ages 8 years old to adult. Each player takes turns to roll the two six sided dice with the aim to make their way round the property board acquiring properties along the way whilst trying to avoid rent and penalties like paying tax or going to jail. As the game progresses players can trade, sell or buy properties with the aim to bankrupt their opponents.
The Monopoly game was named after the term for domination of the money markets by a single financier.
Monopoly was created in 1934 by Charles Darrow. He was a heating engineer from Pennsylvania who was unemployed because of the Great Depression. He invented monopoly because he saw a need for the promise of good fortune and prosperity in people's lives. The prototype of Monopoly game was based on Atlantic City. An oilskin was used as a playing board whilst buttons were the counters and painted wood chippings were the hotels and houses. Charles Darrow took his monopoly game to America's best know games company Parker Brothers of Salem. In the meantime a friend helped Charles Darrow to print 5000 editions of Monopoly which were sold in a Philadelphia department store. The playing pieces for the original Monopoly board games were designed from the charms that were worn on Charles Darrow's wife's charm bracelet. These first editions of the Monopoly game were so popular that they sold out and Charles Darrow and his printer friend could not cope with the demand so he sold the rights to the Monopoly game to the Parker Brothers and a legend in gaming was born.
In 1935 the Parker Brothers approached John Waddington Limited a UK company that specialised in card and board games. The head of Waddingtons, Victor Watson, agreed to sell the game within Britain provided there were changes such as dollars being changed to pounds and railroads becoming stations and the streets of America becoming London streets. And so the British version of Monopoly entered the history books and has remaining one of the UK's best selling board games. Victor Watson was convinced Monopoly would be a best seller when he gave it to his son Norman and he played the game non stop for three days. The British version of monopoly was created when Victor Watson and his secretary Marjory Phillips spent a weekend in London finding place names and landmarks for the board. For example they had lunch in the Angel Islington Lyons tea shop and choose this name for a blue square. The tea shop is now a Co-op bank and a plaque commemorates the name origin in the UK version of monopoly.
It is estimated that over 750 million people have played the Monopoly game.
The longest Monopoly game took 70 days to play.
Monopoly is sold in over 80 countries and is played in 26 different languages.
British prisoners of War in Germany during the Second World War were sent Monopoly sets by the Red Cross that contained real money and maps to help their escape.
Other versions of Monopoly include one for dogs called Monopoly Here and Now Electronic Edition, Monopoly Pin Ball Game Pen, Monopoly Elvis Collectors Edition, Thunderbirds Monopoly, Monopoly Spongebob Squarepants Collectors Etd, Monopoly Lord Of The Rings Edition, Monopoly World Cup Edition, Travel Monopoly, Make Your Own Opoly, Inflatable Monopoly, Simpsons Monopoly, Star Wars Monopoly and many versions of towns, cities and counties around the UK -
View the entire range
.
The Monopoly logo is a man with a large moustache and top hat. He used to be called Mr Moneybags abut his name was changed to Mr Monopoly. He is based on the American banker, philanthropist and financier JP Morgan.
The man in the jail in Monopoly is called Jake the Jailbird.
The Evening Express newspaper ran a competition to win Aberdeen Monopoly board games.
Click To Buy Now.
Local stockists and local shops where you can purchase the Aberdeen Monopoly game:
Save yourself a shopping trip and get the cheapest price for Aberdeen Monopoly with free delivery at
Amazon.
Woolworths in the Bon Accord Centre, Debenhams in the Aberdeen Trinity Centre, Toys R Us at Berryden, Waterstones on Union Street, WHSmith in the Bon Accord Shopping Centre and the Evening Express Shop on Union Street sell Aberdeen Monopoloy.
Arran Monopoly
In March 2010 an edition of Arran monopoly will go on sale online and at the gift shop at Arran ferry terminal to accompany the Aberdeen monopol