Star Trek Fan Club
Details Of the Aberdeen Star Trek Fan Club - Where And When They Meet
On every second Sunday of each month the USS Cosmic Phoenix Star Trek fan club meet at 3pm. For details of the venue please contact Ian on 07910633624 or find them on facebook.
As well as sharing a love of Star Trek the members enjoy raising funds for charities by doing activities such as abseiling wearing Star Trek uniforms such as Klingon warrior costumes.
The Club President is Ian Struthers.
The USS Cosmic Phoenix Star Trek fan club was formerly called the USS Avenger Star Trek fan club.
Website:
Read about Scotty
, actor James Doohan, who came from Aberdeen.
Follow us on:
Instagram
,
Twitter
,
Facebook
and
Google+
Contact Me
.
Bill Bailey brings his act, Larks in Transit, a compendium of travellersí tales and a reflection upon his 20 years as a travelling comedian to Aberdeen at the AECC on Saturday 1st June 2019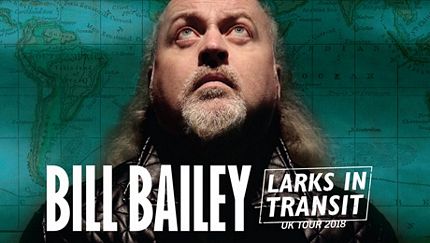 Buy Tickets
.