Deveron Music Festival - Duff House
Each year, since 1996, Duff House in Banff has played host to the annual Deveron Music Festival with extra performances at Banff Academy and the Macduff Arts Centre.
A range of musical performers and performances can be enjoyed during the weekend which includes BBC Young Musician of the Year Competition winners.
Follow us on:
Instagram
,
Twitter
,
Facebook
and
Google+
There will be no 2007 Deveron Music Festival but there will be a 2008 Deveron Music Festival.
2006 Deveron Music Festival
The 2006 Deveron Music festival will take place on 8 - 11 June 2006 and features:
Deveron Festival Orchestra
Beethoven's 5th Symphony
Renaissance Choral Music
Mariko North - Piano Recital Young Concert Artists Programme
Clarinetist - Emma Johnson plays Weber Clarinet Concerto no.2
Robin Hill and Peter Wiltschinsky Guitar Duo
Pianist Mariko Nort
Mozart Magic Flute Overture
Weber Clarinet Concerto no.2
Beethoven Symphony no.5
Musick Fyne
Soundzgood - Deveron Festival Youth Choir
Fancy A Fiddle?
Malimbo Drummers
The event theme this year is a homage to Mozart whose 250th anniversary is celebrated this year. The title of this year's programme is called "Into The Light". The title was chosen because Mozart was very much a man of the Enlightenment, that wonderful period of awakening.
Past Performers Deveron Festival
Gina McCormak
Joanna Nicholson and Graeme McNaught
Jane Watts
For more information and to book tickets online see the Deveron Music Festival website at www.deveronfestival.org.uk
More Aberdeenshire Festivals
.
Bill Bailey brings his act, Larks in Transit, a compendium of travellers' tales and a reflection upon his 20 years as a travelling comedian to Aberdeen at the AECC on Saturday 1st June 2019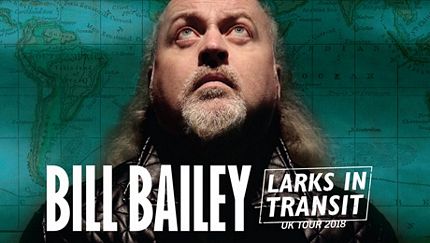 Buy Tickets
.