Aberdeen Slogan
Aberdeen And Aberdeenshire slogan and information about why it was chosen and what the colours represent
The North East of Scotland has had new slogan since 2005.
A Brighter Outlook
It is Aberdeen City And Shire: A Brighter Outlook.
It was chosen to reflect the balance in Grampian between the thriving City and the varied countryside of Aberdeenshire.
Follow us on:
Instagram
,
Twitter
,
Facebook
and
Google+
The Aberdeen logo image to go with the new slogan is an outline of Balmoral Castle in Royal Deeside, Balaclava Breakwater Light at Fraserburgh Harbour and Marischal College in Aberdeen. I hope to get official permission to have a picture or photo of it on the website.
Like AboutAberdeen, the chosen colours of the image is blue to portray the beautiful North Sea and green to portray the colourful landscape.
The branding and publicity for the Aberdeen City and Shire slogan was funded by the Scottish Executive City Growth Fund.
Information about the
Aberdeen Emblem
.
Bill Bailey brings his act, Larks in Transit, a compendium of travellersí tales and a reflection upon his 20 years as a travelling comedian to Aberdeen at the AECC on Saturday 1st June 2019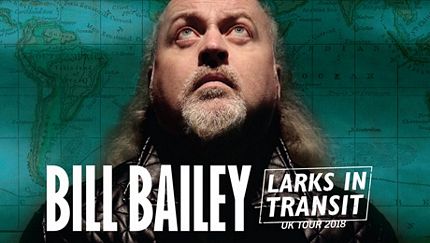 Buy Tickets
.