AA Box 472 Ballater
Photographs of AA Box 472 Ballater in Royal Deeside, Aberdeenshire with information and history about this historic AA phone box at Cambus O'May Ballater.:
The AA Box No 472 can be found on the A93 from Aberdeen to Ballater at Cambus O'May, Royal Deeside, Aberdeenshire, Scotland. It is thought to be one of only ten preserved Automobile Association Boxes in the UK. Another example of an AA Telephone Call Box can be found on the A149 at Brancaster, England.
Follow us on:
Instagram
,
Twitter
,
Facebook
and
Google+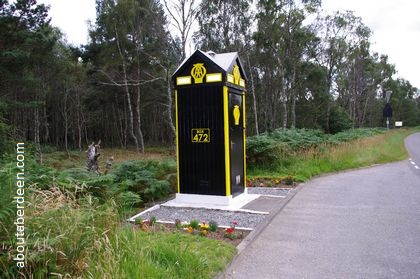 There is a small layby to allow visitors to park at the Aberdeenshire AA Box. Though the door can be opened to reveal interesting photos and message boards, the telephone no longer works. Pictures include the original box in use and images of the restoration work.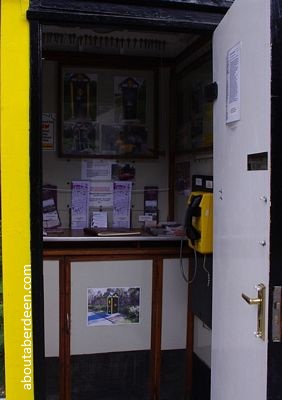 Bill Bailey brings his act, Larks in Transit, a compendium of travellersí tales and a reflection upon his 20 years as a travelling comedian to Aberdeen at the AECC on Saturday 1st June 2019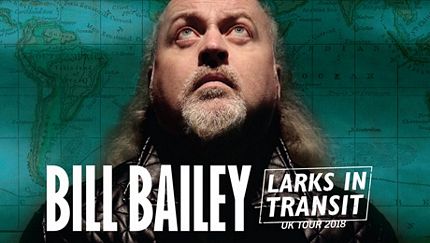 Buy Tickets
.
AA Box 472 in Royal Deeside and the Cairngorms National Park dates back to about 1927 when these Automobile Association Boxes were built to provide their motorcycle and sidecar patrolmen some shelter from the elements: much needed in the winter of Royal Deeside, Aberdeenshire.
This cross gable roof design AA Box would have been called a sentry box by the AA staff and members. Simpler designed earlier AA Boxes date back to 1911. In later years they would also have been used by AA members who would have been given a special key upon membership. If they broke down and needed assistance they could then access the telephone in the AA Box in an era before mobile phones. Switchboard operators could then accurately locate the motorist. The boxes would contain items of help to a lost, stranded or broken down motorist such as a lamp, torch, maps and fire extinguisher. As the use of mobile phones progressed then sadly these boxes fell into disrepair. In 2009 five locals decided to renovate AA Box 472 to its former glory. Photographs of this renovation work can be found at www.aabox472.webs.com
More
Monuments of Aberdeenshire
.
Other nearby Aberdeenshire attractions include:
Burn o Vat Waterfall
Cambus O May Suspension Bridge
Braemar Castle
Ballater Queen Victoria Replica Royal Railway Carriage Model