Home
>
Famous Aberdonians
>
Child Entertainer Aberdeen Aitken Magic Jim Martin
Child Entertainer Aberdeen Aitken Magic Jim Martin
Book a Child Entertainer in Aberdeen who will entertain your children on their birthday or special occasion at home or any place throughout Aberdeenshire
: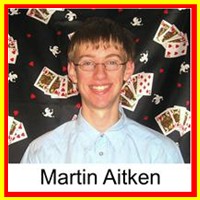 The
child entertainer Aberdeen
family act of Aitken Magic is brought to you by magicians and children's entertainers Jim and his son Martin. They perform their private and public shows throughout the North East of Scotland that consist of stage tricks, close up magic, disco dancing, animal puppets (including scruff the dog and dippy the duck), kids prizes, balloon modelling and music entertainment. Any model balloons made during the act are giving to each child to take home.
Follow us on:
Instagram
,
Twitter
,
Facebook
and
Google+
Contact Me
.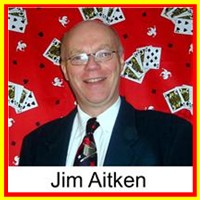 Magician Martin Aitken and his father Jim will take the hard work of organising and running entertainment for your child's special day off your hands and keep your wee one and his or her friends and guests entertained for a minimum of 30 minutes and up to a whole day. Aitken Magic are also available to work their magic tricks at weddings, parties, restaurants, dinner parties, galas or fetes or perform cabaret and stage shows with bigger illusion tricks.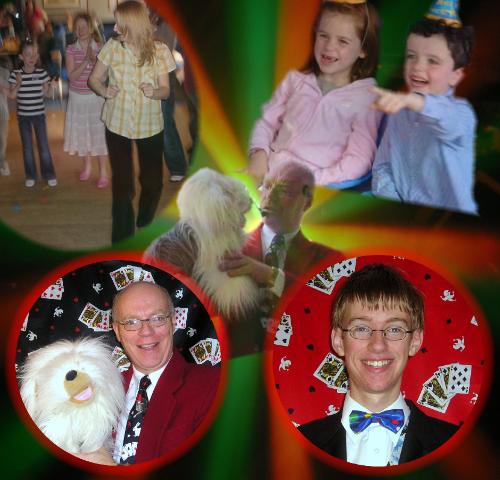 Seeing the photo of Aitken Magic above may seem familiar for the two magicians perform in public events throughout Aberdeenshire including fund raising events for the Aberdeen Northsound Radio charity Cash for Kids. They perform their magic each year at the Fraserburgh Blue Light Festival, giving out free balloons for the children in between their magic tricks. All donations from their tricks goes directly to this Aberdonian cause.
Jim Aitken has been performing magic and been a child entertainer in Aberdeen since the 1990s and regularly takes part in the Scottish Association of Magical Societies Children's Entertainer of the Year competition. Jim is the current secretary of the AMS (Aberdeen Magical Society) and is also the honorary life president of another magic group. His tricks have worked their magic onto his son Martin and he has been performing tricks and entertaining folks since he was 4 years old. He won the Magic Circle Young Magician of the Year twice, winning the award the first year of his entry.
Save 10% off the closest car parking to the terminal at
Aberdeen International Airport
with flexible bookings and no credit card fees for long or short stay. Use discount code ABZPARK10 or follow the link below where it will be automatically applied:
Here is what a satisfied parent said of their child entertainer act:
It was a thoroughly enjoyable show for both the kids and the adults. Personally I have never seen that amount of children that quiet for such a long period.
Jim Aitken and Martin Aitken of Aitken Magic are fully Disclosed Scotland checked and are approved to work with young children and disabled people. Their acts are covered by up to £5,000,000 public liability insurance.
Jim Aitkin says:
I love entertaining Aberdeen audiences. They know how to enjoy themselves, and having been born and breed in the North East I share a similar sense of humour to my many clients. The pleasure that I get from bringing a little bit of magic to audiences in and around Aberdeen is immense. Nothing can beat the feeling that you get when people are enjoying your show and having a good time.
Contact Jim and Martin of Aitken Magic
Jim and Martin of Aitken Magic can be contacted at their address of :
Aitken Magic
178 Hilton Drive
Aberdeen
Scotland
UK
AB24 4LT
Telephone Number: (01224) 484272
Or visit their website at www.aitkenmagic.co.uk to read more about AitkenMagic or make an online booking.
More Magic Acts From Aberdeen
.